Chieftain girls blast Lansing in season opener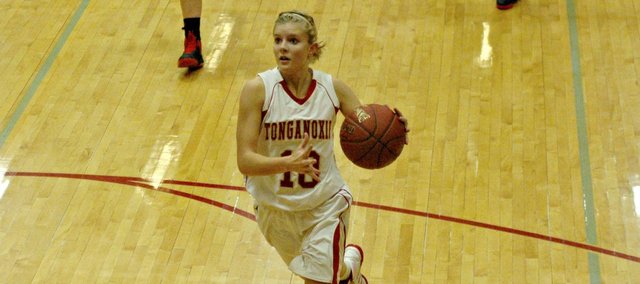 When the Tonganoxie High girls basketball team opened its 2012-13 campaign Friday against Lansing, the Chieftains weren't without the mishaps often synonymous with season openers. However, as most veteran teams do, THS quickly shook off the rust and cruised to a win at home.
Four players reached double figures as the Chieftains (1-0, 1-0 Kaw Valley League) overcame a shaky first quarter and sprinted to a 60-31 victory against the Class 5A Lions (0-1, 0-1).
Points were a premium in the opening period as coach Randy Kraft's squad found itself in a low-scoring, turnover-plagued battle early on. THS managed just four points each from seniors Madee Walker and Jenny Whitledge and clung to an 8-7 lead at the end of the quarter.
"It was a really slow start," Kraft said. "We were running stuff and we got good looks, but we didn't hit any shots early. I think we were trying too hard to make them and not getting in the flow of things."
THS gave itself some breathing room with a 9-2 run midway through the second, and Lansing never recovered. Junior Katelyn Waldeier gave the Chieftains a double-digit lead with six straight points late in the period, and the team extended its advantage to 30-16 by halftime.
Any thoughts of a Lion comeback were quickly erased when the Chieftains opened the second half on a 12-0 run.
"I always tell the kids that the most important part of the game is the first four minutes of the third quarter," Kraft said. "You've got to do your job then. They either get away from you then or you pull away, so we really emphasize that."
The lead never dipped below 20 points in the fourth quarter, as THS rolled to a 1-0 start.
Walker and Whitledge led the way with 15 points apiece, but they were hardly the only scoring threats. Waldeier and senior Hannah Kemp each added 10 points, and junior Emily Soetaert added seven.
"I think that, since we have such a different team, a lot of people have different strengths and everybody is willing to step up," Kemp said. "Our team can shoot very well, so it's easy to trust everybody with the ball."
Walker and Waldeier tied for the team lead with seven rebounds each. Morgan Bromell led Lansing with 13 points. As a team, the Lions shot just 22.2 percent from the field, incluing a 9.5-percent effort from beyond the 3-point arc.
THS will have a long break between games, as it won't return to action until it plays host to KVL foe Piper at 5:45 p.m. on Dec. 11. In the meantime, the Chieftains will continue to work out early-season kinks and establish individual roles up and down the roster.
"This was a nice season opener for us," Kemp said. "It's going to give us a lot of confidence going into the next game, but there are things we need to work on like executing some things and keeping that chemistry going."
Score by quarters
Lansing 7  9  10  5 — 31
Tonganoxie 8  22  16 14 — 60
Individual scoring
LANSING — Morgan Bromell 5-15 2-2 13, Jasmine Meyer 3-3 0-0 6, Emily Babcock 1-7 2-2 4, 1-13 1-4 4, Jordan Counts 1-1 0-0 2, Madelyn Moya 1-2 0-0 2, Madison Bosworth 0-2 0-0 0, Mikayla Zilenski 0-8 0-0 0.
TONGANOXIE — Madee Walker 5-10 4-5 15, Jenny Whitledge 6-10 3-4 15, Hannah Kemp 3-6 3-4 10, Katelyn Waldeier 4-9 2-6 10, Emily Soetaert 3-6 1-8 7, Kara Banks 1-2 0-2 2, Tressa Walker 0-0 1-2 1.