THS

boys can't match Lions' firepower in 2012-13 debut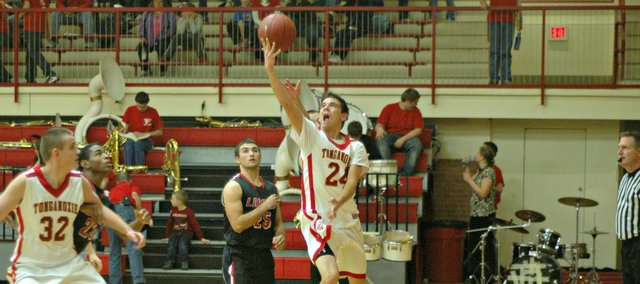 If Tonganoxie High boys coach Shawn Phillips wanted to test his new-look team against a top-tier opponent, he didn't need to look farther than the first game of the season. A visit from Class 5A powerhouse Lansing on Friday provided the Chieftains with arguably one of the toughest teams they'll face all year, and the results spoke for themselves.
THS played tough for four quarters, but couldn't match Lansing's experience or athleticism in a 73-57 loss at home.
"Lansing is a good team," Phillips said. "They've got people that are returning with experience and they're well coached, so it was definitely a big challenge for us. Overall, I thought our effort was pretty good, but Lansing had some runs where we just couldn't get stops."
The fourth-ranked Lions (1-0, 1-0 Kaw Valley League) didn't need long to take control, as they sprinted out to a 20-8 lead at the end of the first quarter. However, despite falling behind early, the Chieftains (0-1, 0-1) didn't allow Lansing to turn the game into a blowout. The teams traded punches for the remainder of the first half, and the Lions took a 38-20 advantage into the locker room.
The deficit hardly changed in the third quarter, as neither team seemed to have the upper hand for the duration of the period. A resilient fourth-quarter effort by THS kept the deficit under 20 in the fourth quarter, but the final outcome was never in question.
"I told them after the game that I appreciated that they kept fighting," Phillip said. "I don't ever think that our desire or effort was poor. We'll get better from it and we'll continue to work."
When it was all said and done, Lansing had four players in double figures. Joe Schneider led the way with a game-high 19 points, while Roy Clayter, Khalil Bailey and Clay Young added 13, 11 and 10 points, respectively. Chieftain senior John Lean, the team's only returning starter from last season, led THS with 16 points. Fellow senior and Lansing transfer Blair Mathisen notched 10 points against his former school.
The season-opener marked the first-ever THS varsity minutes for five different players. That list includes two transfers in Mathisen and junior James Grizzle, as well as a freshman in Jack Dale.
"The speed of a varsity game is so much faster than a JV game," Phillips said. "I think that's a little bit of a wake up call for some of them. It's something that's going to take our kids a little while to get used to."
Phillips' squad won't return to competition until a Dec. 11 visit from KVL foe Piper. The game against the Pirates will begin immediately following the conclusion of the girls game, which is scheduled for 5:45 p.m.
Score by quarters
Lansing 20  18  16  19 — 73
Tonganoxie 8  12  14  23 — 57
Individual scoring
LANSING — Joe Schneider 7-10 5-5 19, Roy Clayter 5-8 3-5 13, Khalil Bailey 4-6 3-6 11, Clay Young 4-7 1-4 10, Zach Jackson 3-7 0-0 9, Kenneth Banks 1-2 3-4 5, Joe Henry 2-2 0-3 4, Lucas Mein 0-1 1-2 1, Donte Gibson 0-1 1-2 1.
TONGANOXIE — John Lean 6-11 3-4 16, Blair Mathisen 4-5 2-2 10, Eric Tate 3-4 2-2 8, Eric McPherson 3-4 0-0 6, James Grizzle 3-5 0-0 6, Jared Sommers 1-3 2-2 4, Jack Dale 1-5 2-2 4, Tyler Ford 1-2 1-2 3, Ben Johnson 0-3 0-0 0.