THS

wrestlers find success in Wamego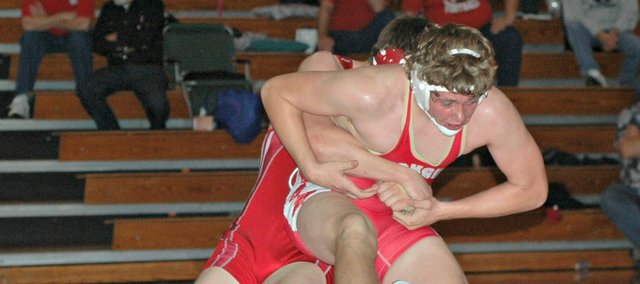 Photo Gallery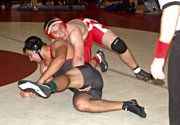 THS wrestling at Wamego
Check out photos of the Chieftains in action at their first tournament of the season.
Wamego — For the second year in a row, Tonganoxie High traveled to Wamego to open its wrestling season. For the second year in a row, the Chieftains found plenty of success in the process.
THS had nine wrestlers post winning records — part of a combined 34-19 effort — Saturday at the Wamego Invitational. The team's 64.1 winning percentage was just a hair below its mark at last year's season opener, in which the Chieftains went 43-21 (67.1 percent) and claimed a team title.
After going 10-4 in the opening round, coach Jeremy Goebel's squad struggled to a 7-7 performance in the second. Goebel addressed the team during an intermission period, and the Chieftains responded by going undefeated in the third round.
"All week, we talked about going better than 43-21," Goebel said. "We weren't worried who was wrestling; we just wanted to do better than we did last year. After that second round, I told them we had to step it up."
The surge didn't stop after the third round, as six Chieftains advanced to the finals in their respective weight classes. Junior Clayton Himpel (120 pounds) and senior Gus Dent (170) each went undefeated. Himpel, a two-time state qualifier, went 5-0 with four pins, while Dent went 4-0 with three pins.
Himpel and Dent weren't the only two wrestlers to enjoy strong performances, as seven Chieftains finished with just one loss.
"Some people don't look at wrestling as a team sport, but everything we do in (the practice room) reflects what we do out there as a team," Goebel said. "If we start it off, that fire never burns out. It just keeps going."
Team results were not available. Officials released initial results to Goebel indicating the Chieftains had won the tournament, but they later informed Goebel that results were incorrect and that THS finished second behind Junction City. Results still might not be official, according to Goebel.
THS will look to keep the momentum in its favor this week at the Eudora Tournament of Champions, which is comprised of 32 teams. Action begins at 1:30 p.m. Friday and will conclude about 9:30 p.m. The tournament will resume at 9 a.m. Saturday. The Chieftains took third at last year's tournament.
"Eudora is a great tournament for our kids to be able to get a lot of quality matches," Goebel said. "Last year, we were 44-35, so our goal is to beat that. If we beat that, good things are going to happen. If our kids keep doing what we're doing and raise that bar in the practice room, it's going to pay huge dividends."
THS individual results
106 pounds — Connor Yates, 3-1
113 — Sinjan Gergick, 3-1
120 — Clayton Himpel, 5-0
126 — Jordan Boudreaux, 1-2
132 — Dylan Yates, 2-2
138 — Ryan Musick, 0-3
145 — Seth Wolf, 2-1
152 — Asher Huseman, 3-1
160 — Wyatt Weeks, 0-3
170 — Gus Dent — 4-0
182 — Luke Carey — 3-1
195 — Julius Coats — 3-1
220 — Thomas Miller — 3-1
285 — Ty Barton, 2-2