McLouth boys come up short vs.
JC

North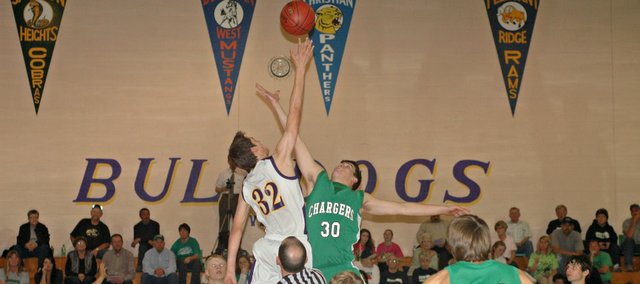 McLouth — For the most part, the McLouth High boys put themselves in position to win Tuesday's clash with Jefferson County North. As it turns out, though, a few fundamental breakdowns was all it took to put the Bulldogs on the wrong end of a close game.
MHS led early on and was within arm's reach down the stretch, but ultimately came up short in a 41-36 loss to its Delaware Valley League rival.
"The bottom line is, they did some of the simple things better than we did," coach Jason Schroeder said. "They made their free throws and they didn't turn the ball over. We turned it over too much and didn't make our free throws."
Both teams struggled offensively in the early going, as they combined for just 13 points in the first quarter. Despite taking just seven shots in the period, McLouth (1-1) jumped in front, 9-4. The Chargers struggled mightily from the floor, going just 2-for-13 in the quarter.
JCN's shots started to fall in the second, and they went in front with 3:15 left until halftime. The teams traded baskets in the final minutes of the half, and the Chargers took a 12-11 advantage into the locker room.
The back-and-forth battle continued into the second half, and the Bulldogs regained the lead midway through the third quarter. However, several costly turnovers led to easy baskets for JCN, which closed out the quarter on a 10-3 run to go up by six.
"I feel like we were passive, but their defense frustrated us," Schroeder said. "That's really what it was. They put five guys out there that understand their roles, and they performed their roles very well. They're not going to beat themselves. We had to go out there and beat them, and we didn't."
Schroeder's squad chipped away at the deficit in the fourth quarter and got within one with 3:12 remaining, but the Chargers killed the comeback attempt sunk several late free throws to secure the win.
Senior Dakota Cop led the Bulldogs with 10 points, while fellow seniors Marc Walbridge and Carter Gish each scored nine. JCN's Cory Noll led all scorers with 14 points.
McLouth will be back on its home floor on Friday when it plays host to Maranatha.
"We knew things we had to get better at, and now JCN has exploited some of those things," Schroeder said. "We've got to keep working. We've got some things to do, but we'll be all right. Nobody is panicking."
Score by quarters
JC North 4 8 16 13 — 41
McLouth 9 2 11 14 — 36
Individual scoring
JC NORTH — Cory Noll 5-11 3-4 14, Jacob Grandpre 3-9 5-8 11, Ole Eidsvig 2-3 4-6 9, Shawn Lane 0-1 3-5 3, Bryce Noll 1-2 0-2 2, Luke Pyle 1-5 0-0 2.
MCLOUTH — Dakota Cop 3-4 3-3 10, Marc Walbridge 2-7 4-5 9, Carter Gish 3-7 2-4 9, Nick McAferty 2-8 1-4 6, Drew Cerny 0-1 2-2 2.