MHS

girls overpowered by No. 7 Chargers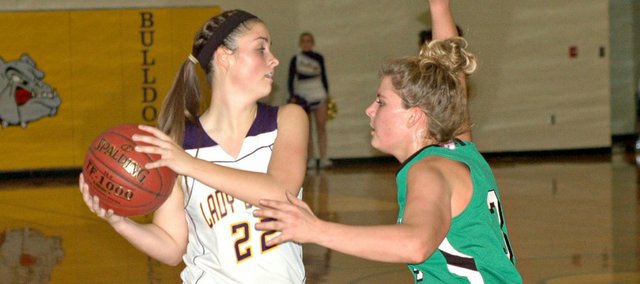 McLouth — Last week's season-opening win against Heritage Christian reminded the McLouth High girls what it felt like to experience a big victory. Tuesday's visit from the defending Class 2A state champions gave the Bulldogs a feel for the other end of the spectrum.
Coach Lindsey Graf's squad was overpowered from the opening tip and struggled to show signs of life in a 69-14 loss to Delaware Valley League foe Jefferson County North.
"We definitely came out passive and gave them the advantage from the beginning," Graf said.
JCN, ranked No. 7 in Class 2A, jumped out to a 13-4 lead after one quarter and didn't let up for the remainder of the first half. The Chargers took advantage of a poor shooting effort by McLouth (1-1) and extended its advantage to 38-9 by intermission.
The Bulldogs went just 3-of-18 from the floor in the first half with all three field goals coming from junior Kayla Steffey.
"The biggest thing with Kayla was we finally got her to settle down and do some attacking," Graf said. "Outside of that, we had a lot of people standing more than anything else. They were physically strong, and in some regards, we backed down from that fight."
Things went from bad to worse in the second half, as the Chargers continued to increase McLouth's deficit. It was a 43-point game at the end of the third quarter and a 55-point game at the final buzzer.
Jacee Kramer and Jamie Navinskey led JCN with 25 and 23 points, respectively. Steffey finished with eight points and accounted for 80 percent of McLouth's field goals. As a team, MHS shot just 16.7 percent (5-of-30). Senior Kaitlyn Hullinger, who finished with five points, was the only other Bulldog with a field goal.
McLouth will try to get back in the win column on Friday when it plays host to Maranatha Academy — a team it defeated twice last season.
"The big thing is where we go from here," Graf said. "We've got to regroup and get a little confidence in ourselves. We have players that are much better than they showed tonight, and I think we'll continue to improve."
Score by quarters
JC North 13 25 18 13 — 69
McLouth 4 5 4 1 — 14
Individual scoring
JC NORTH — Jacee Kramer 12-20 0-1 25, Jamie Navinskey 8-14 7-7 23, Megan Gilliland 2-4 2-4 6, Heather Polson 2-4 0-0 4, Amanda Wistuba 1-1 0-0 2, Randi Noll 1-2 0-0 2, Jenna Kramer 1-3 0-0 2, Kymee Noll 1-5 0-0 2, Autumn Houk 0-2 2-2 2, Mallory Kramer 0-3 1-2 1.
MCLOUTH — Kayla Steffey 4-14 0-0 8, Kaitlyn Hullinger 1-5 3-4 5, Konner Patterson 0-1 1-4 1.