Kissinger to throw javelin, discus at Saint Mary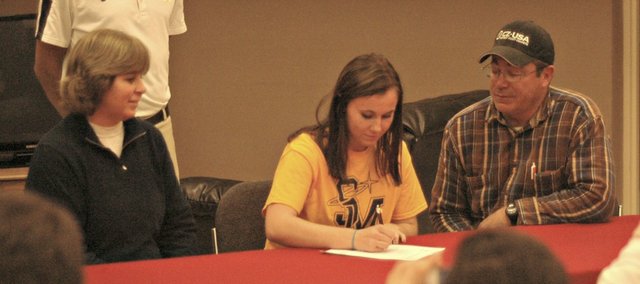 Bobbi Jo Kissinger's final high school track and field season is just a few months away, but she knows she won't be ready to call it quits at the end of the school year. On Wednesday, the Tonganoxie High senior made sure that wouldn't be the case.
Kissinger, who throws javelin and discus for the Chieftains, signed a national letter of intent to compete in the same events at the University of Saint Mary in Leavenworth.
"I'd been in touch with them since probably the end of September," Kissinger said. "I was looking at a few schools and I wanted to do track. I checked out a few nursing programs and I also talked to their track coach. It's such a relief. I know Saint Mary is a smaller school, so I really just want to have fun because I like track so much."
As a junior, Kissinger recorded several top-10 finishes, including a third-place effort in the discus (99 feet, six inches) and a fourth-place throw in the javelin (97-4) at the Kaw Valley League championships. She'll spend her final high school season trying to improve her distances in both events.
"I think she could definitely go higher at league (as a senior)," head girls coach Chris Weller said. "I think every year, she's improved at it. She's an extremely hard worker. To stick it out for four years and just keep getting better, she's quite a competitor. I would like to really see her improve as the year goes on and possibly get a shot a state."
Kissinger will join a USM team that took ninth place at the Kansas Collegiate Athletic Conference outdoor championships in May. The Spires will open their 2013 indoor season in January. She credited Weller and throwing coach Matt Bond for helping her enjoy so much success and preparing her to throw at the collegiate level.
"Bond is a really good coach," she said. "He's good at picking out particular things for each kid and knowing what to work on. He's really encouraging, and so is coach Weller. I think that's probably the best thing is everyone is just so encouraging."
In addition to her three years on the track and field team, Kissinger has also spent time with the THS volleyball and basketball programs. She's currently a member of the powerlifting team. She's stayed active in the school's non-athletic organizations as well, as she's a member of the National Honor Society, the Students Respecting Students program and the Chieftain Singers.