Chieftain wrestlers take second in Eudora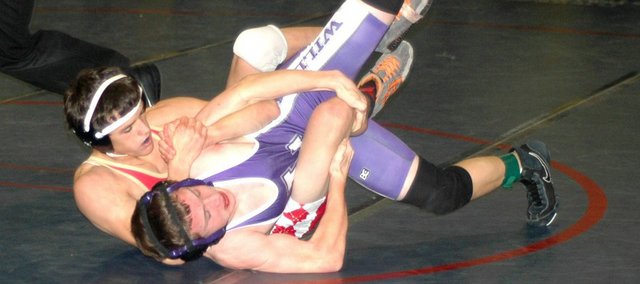 Eudora — The Tonganoxie High wrestling team entered the Eudora Tournament of Champions with one goal: improvement. Not only did the Chieftains accomplish that goal, but they almost won a championship in the process.
THS went a combined 46-29 and racked up 227.5 team points, good enough for second place finish in the overall standings. It fell just 1.5 points short of Class 5A St. Thomas Aquinas, which held a slim lead after the first day of competition. Coach Jeremy Goebel's squad wrestled in four fewer matches than it did in last year's tournament (44-35), but ended with a better win percentage.
"Our focus this year is to do better than we did last year," Goebel said. "We're not focused on our opponent; we're focused on performing better than we did last time we were in that spot. This year, the difference was we came to wrestle better than we did last year."
The tournament opened Friday with round robin competition as wrestlers in each weight classes battled for one of eight bracket spots. Eight of the Chieftains' 13 wrestlers advanced to bracket play. Clayton Himpel (120 pounds) and Asher Huseman (152) earned the top seed in their respective weight classes, while Connor Yates (106), Sinjan Gergick (113), Luke Carey (182), Julius Coats (195), Thomas Miller (220) and Zeke Kissinger (285) all earned spots in the top six.
Himpel cruised through the 120-pound bracket to claim the Chieftains' only individual title. He won his first two matches to reach the finals, in which Aquinas' Jake Elbrader was disqualified due to flagrant misconduct.
Coats was the only other THS wrestler to reach the championship match. He pinned his first two opponents before falling to Fort Scott's John Metcalf, 9-6. Huseman and Miller both lost their openers, but won the next three to take third. Yates and Kissinger each finished fourth, while Carey and Gergick took sixth and seventh, respectively.
"Those guys that didn't win their first match, they showed some toughness to get back," Goebel said. "That was huge on their part in terms of just wrestling each match in preparation to get to the last match."
THS got to test itself against some of the state's premier teams, as five of the tournament's 22 teams currently present in the Kansas Wrestling Coaches Association rankings. Aquinas checks in at No. 4 in the 5A poll. Other ranked squads were No. 3 Buhler (4A), No. 4 Lawrence (6A), No. 10 Chanute (4A) and No. 10 Atchison County Community High School (3-1A). Buhler, Chanute and Lawrence all finished in the top 10, while ACCHS came in 13th.
The Chieftains have a busy week ahead, beginning Thursday with a triangular against Santa Fe Trail and Ottawa at OHS. THS swept a triangular against the same teams last year, beating SFT, 43-28, and shutting out Ottawa, 78-0.
"We pretty much want to do the same thing as last year with the same results," Coats said. "We want to shut out Ottawa and beat Santa Fe Trail and try to set the standard for another year."
Following Thursday's action, the Chieftains will play host to 11 schools for Saturday's Randy Starcher Memorial Invitational. The field is comprised of Atchison, Bishop Ward, Doniphan West, Frontenac, Mound City-Jayhawk Linn, Louisburg, Olathe Northwest (junior varsity), Perry-Lecompton, Piper, Oskaloosa and Topeka-Shawnee Heights. Tonganoxie won last year's tournament with a combined 42-9 record.
"The focus right now is finishing 2012," Goebel said. "Varsity-wise, we're done after this week until 2013. We've got to continually push ourselves. Some of those teams have some tough kids, but if we continue to do what we're capable of, good things are going to happen."
St. Thomas Aquinas, 229; 2. Tonganoxie, 227.5; 3. Prairie View, 226.5; 4. Chanute, 221.5; 5. Buhler, 165.5; 6. Spring Hill, 160; 7. Baldwin, 158.5; 8. Fort Scott, 156; 9. Lawrence, 156; 10. Mill Valley, 152; 11. Maize South, 142.5; 12. Rossville, 134.5; 13. ACCHS, 133.5; 14. Shawnee Mission South, 111.5; 15. De Soto, 100; 16. Blue Valley, 98; 17. Lansing, 95.5; 18. Paola, 79.5; 19. Piper, 66; 20. Louisburg, 35.5; 21. Eudora, 30; 22. Wellsville, 18.5.
THS individual results
Name, Tourney record (Tourney finish)
106 pounds — Conner Yates, 7-2 (Fourth)
113 — Sinjan Gergick, 2-6 (Seventh)
120 — Clayton Himpel, 6-0 (First)
126 — Mitch Brock, 1-2 (N/A)
132 — Dylan Yates, 1-2 (N/A)
138 — Jordan Boudreaux, 0-4 (N/A)
145 — Seth Wolf, 1-2 (N/A)
152 — Asher Huseman, 7-1 (Third)
160 — Wyatt Weeks, 0-3 (N/A)
170 — Open
182 — Luke Carey, 3-3 (Sixth)
195 — Julius Coats, 8-1 (Second)
220 — Thomas Miller, 5-2 (Third)
285 — Zeke Kissinger, 5-2 (Fourth)