Chieftain girls hang on to defeat Piper
Waldeier notches double-double in win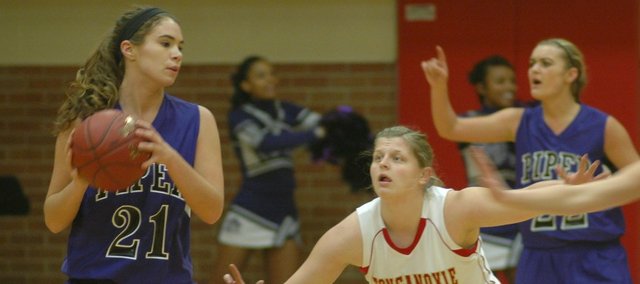 Photo Gallery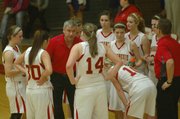 THS basketball vs. Piper
The Tonganoxie High basketball teams played host to Kaw Valley League opponent Piper on Friday. The girls held on for a 41-37 win, while the boys suffered a 69-52 loss.
After two low-scoring battles against Piper in 2011-12, it looked as though Tonganoxie might coast in their first meeting with the Pirates this season. However, a late surge turned this one into yet another nail-biter between Kaw Valley League rivals.
Junior Katelyn Waldeier recorded her first career double-double with 14 points and 10 rebounds, and the Chieftains held on for a 41-37 win Tuesday at home.
"That was tough. It was Piper's fifth game, but it was only our second game after 11 days off," coach Randy Kraft said. "We don't quite know where we're at as far as game-type conditioning, but I told them I was pretty pleased."
THS (2-0, 2-0 KVL) led by just three points after a tightly-contested first half, but held Piper to just three third-quarter points and extended its lead to eight at the end of the period. The gap grew to 14 early in the fourth, and it looked as though the Chieftains would cruise to an easy win.
The Pirates came storming back, however, as they reeled off an 11-2 run to get within five. Kraft's squad had multiple opportunities to ice the game at the free throw line, but missed on five of its final attempts.
Despite struggling to score down the stretch, the Chieftains did enough on defense to preserve the win. Piper shot just 25.9 percent (14-of-54) and failed to find any sort of offensive rhythm until midway through the fourth quarter.
"We had to play a lot of help defense," Waldeier said. "They have a few good shooters, so we wanted to bring defenders in to help. There weren't a lot of layups."
Piper's Carley Zwart led all scorers with 15 points.
THS will cap off its current three-game homestand Friday when Basehor-Linwood comes to town. The Chieftains and Bobcats split a pair of regular season meetings a year ago.
Score by quarters
Piper 12 9 3 13 — 37
Tonganoxie 14 10 8 9 — 41
Individual scoring
PIPER — Carley Zwart 4-7 5-7 15, Jessica Wayne 4-16 0-1 8, Megan Woolley 3-14 0-0 7, Tori Webb 2-7 0-0 5, Sydney Mansaw 1-7 0-0 2, Jordan Wagner 0-1 0-0 0, Haley White 0-2 0-0 0.
TONGANOXIE — Katelyn Waldeier 6-9 2-6 14, Emily Soetaert 4-8 0-3 9, Hannah Kemp 2-5 2-2 6, Madee Walker 3-6 0-0 6, Jenny Whitledge 2-6 0-2 4, Tressa Walker 1-1 0-0 2, Kara Banks 0-2 0-0 0.