Giving back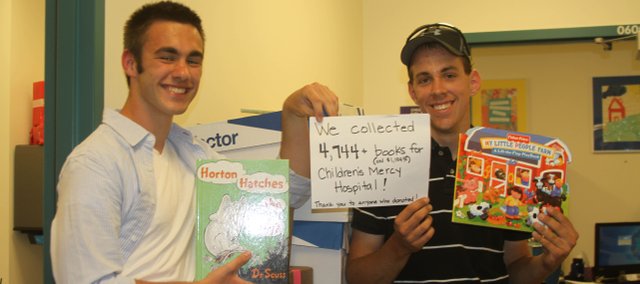 Wyatt Maurer and Tyler O'Briant have spent considerable time at Children's Mercy Hospital in Kansas City, Mo., as patients.
Both Tonganoxie High School seniors have battled illness. Maurer has dealt with chronic kidney disease since birth, while O'Briant had a bout with chronic bacterial and viral infections earlier in high school.
O'Briant remembers his fellow patients, many of whom had cancer.
"I was sitting in my room, quarantined and in the worst pain I probably was ever going to be in," he recalled. "I could still get out every once in a while. They had cancer, something way worse than what I was going through."
O'Briant and Maurer, who are two of 17 members of the Children's Mercy's Teen Advisory Board, launched a book drive for Children's Mercy Hospital patients. Children's Mercy has a total of six campuses in the Kansas City metro area and offers the only free-standing children's hospitals between St. Louis and Denver, providing care to patients from birth to 21 years of age. Advisory board members can join the group between the ages of 13 and 18 and must be past or current patients.
Maurer and O'Briant partnered with Tonganoxie Middle School for the drive and sought the help of area businesses earlier this year.
Roughly 4,800 books were donated and more than $1,150 raised for the child life/teen division at Children's Mercy.
The two friends inspected each book to ensure each was printed after 1985 because of toxic ink that was used before then. They also placed a sticker on each book telling from where the book came.
Money was used to purchase Nooks. Patients also are given gift cards to purchase e-books for the Nooks, which helps build up an array of titles in each Nook, O'Briant said.
"We wouldn't have been able to do it without the support of the local community and local businesses," Maurer said.
Maurer and O'Briant are planning another drive in the spring in Tonganoxie, and they're involved in other drives in the Kansas City metro area.
Melissa Pulis, assistant director of child life for Children's Mercy, praised Maurer and O'Briant.
"I just think they have shown a lot of initiative and leadership because they did put a great project with great outcomes out there and really challenged the others in the group to take that lead," Pulis said.
She said their drive has caused a ripple effect, prompting other advisory board members to conduct drives in their own communities and schools. Pulis said another board member brought in about 4,000 books from a drive at her school.
The Tonganoxie friends volunteer weekly at the Kansas City, Mo., campus on Gillham Road, giving back in other ways.
Each month, Children's Mercy receives plain stuffed dolls that are given to patients to decorate. O'Briant and Maurer spend time with the youths, and sometimes patients' siblings, helping them decorate the dolls by drawing on faces and adding clothes.
O'Briant, who is a regular in THS school plays and musicals, sometimes dresses up when decorating the dolls. He brings along his own puppet, Lionel the Lion, to provide entertainment to the children.
O'Briant said he and Maurer hope their actions can bring a smile to youths who are battling many ailments.
"That's why I wanted to volunteer, to ease their pain," O'Briant said.