THS

boys struggle late in loss to Pirates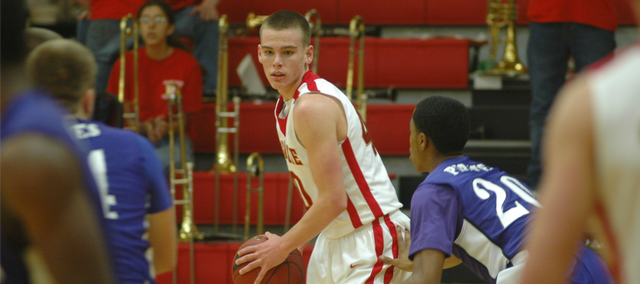 Photo Gallery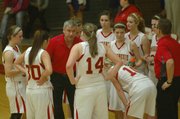 THS basketball vs. Piper
The Tonganoxie High basketball teams played host to Kaw Valley League opponent Piper on Friday. The girls held on for a 41-37 win, while the boys suffered a 69-52 loss.
For the second time in as many games, Tonganoxie High showed it could go toe-to-toe wit a premier opponent. However, just like last time, late mistake and missed opportunities translated into a lopsided loss.
The Chieftains nearly erased a double-digit, second-half deficit Tuesday against Piper, but in the end, they couldn't overcome a 26-point night by Tyrone Jennings in a 69-52 loss.
THS (0-2, 0-2 Kaw Valley League) started the second half down by eight and quickly allowed the Pirates to extend its lead to 12. The Chieftains answered with an 8-0 run to get within four midway through the quarter, but Jennings killed the comeback attempt with five straight points.
Coach Shawn Phillips' squad got within four again late in the period, but once again, Jennings slammed the door with a 3-pointer. The Pirate senior gave THS fits all night, going 9-of-13 from the field, including 4-of-7 from beyond the arc.
"We had seen them play against the zone a couple of times," Phillips said. "They hadn't shot it quite that well, but that's something that happens on any given night. (Jennings) got open looks and he hit them. That's why he's a good player."
Piper scored the final 10 points of the third quarter to regain control, and the Chieftains failed to mount another serious comeback attempt.
Despite committing 14 first-half turnovers, the Chieftains managed to stay within arm's reach early in the game. Piper jumped out to a 15-10 lead at the end of the first quarter, but the THS defense buckled down and prevented the Pirates from pulling away before the break.
"They kept getting to the basket, so our goal was to keep them out of the paint," Phillips said. "We did a better job and we got a few stops, but we've just got to continue to do that over the course of a full game."
Freshman Jack Dale led the Chieftains with 15 points, including a 6-of-6 effort from the free throw line. He was the only THS player to reach double figures.
The Chieftains' early stretch of tough opponents will continue on Friday when defending Class 4A state champion Basehor-Linwood pays a visit. The Bobcats swept THS last season.
"We've got to get better," Phillips said. "We've got to be able to run our stuff better and take care of the basketball better. There's nowhere that we can't get better."
Score by quarters
Piper 15 16 21 17 — 69
Tonganoxie 10 13 15 14 — 52
Individual scoring
PIPER — Tyrone Jennings 9-13 4-5 26, Tyler Owens 4-8 3-4 11, Calvin Johnson 2-12 5-7 9, Dominique Jennings 3-6 3-7 9, CJ Harper 2-4 2-2 6, Luke Long 1-4 2-2 4, Bradley Rogers 0-0 2-2 2, Colton Walker 0-0 2-2 2, Colton Beebe 0-1 0-2 0.
TONGANOXIE — Jack Dale 4-7 6-6 15, Ben Johnson 4-7 1-2 9, James Grizzle 2-5 4-5 8, Eric McPherson 3-7 0-2 6, John Lean 2-9 1-2 5, Eric Tate 1-6 1-2 4, Jared Sommers 1-3 0-2 3, Tyler Ford 1-3 0-1 2, Blair Mathisen 0-1 0-0 0, Keaton Truesdell 0-2 0-0 0.