THS

wrestling goes 2-0 at Ottawa triangular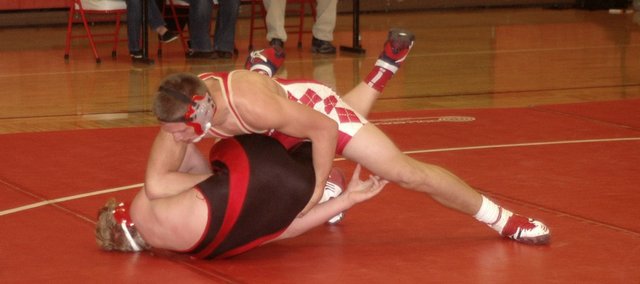 Ottawa — When Ottawa and Santa Fe Trail paid a visit to Tonganoxie in 2011, the Chieftains put together one of the most dominating performances of the season. This year's rematch wasn't quite as decisive, but THS still had enough grit and determination to get the job done.
Coach Jeremy Goebel's squad improved to 2-0 in dual competition with wins against the Cyclones and Chargers Thursday at OHS. The team opened with a 55-24 win against host-school Ottawa, then downed SFT by a 52-27 margin. The Chieftains combined for 11 pins in the two duals, including two each by five different wrestlers.
"As you look up and down our lineup, we competed hard," Goebel said. "The biggest thing we've got to work on is staying on our backs, but overall, I thought we wrestled well."
THS started things off against an Ottawa team it shut out last season, 78-0. The Cyclones made things interesting in this year's meeting, but THS won eight of 12 matches to secure the win.
The Chieftains led by just one point after nine matches, but a scratch by Ottawa at the 170-pound slot gave THS six more points. Carey (182) then started a streak of four straight pins to ice the dual.
"I'd lost to the Ottawa kids before. I don't like to lose and I didn't want to lose again, so I went harder at practice and pushed to make it through," Carey said. "It was pretty intense, but I knew I had 170 and 195 to back me up."
Other Chieftains to pin their opponents were Clayton Himpel (126), Asher Huseman (152), Julius Coats (195), Thomas Miller (220) and Zeke Kissinger (285). Ottawa also competed without a wrestler at 106.
Another late surge propelled THS by Santa Fe Trail in the second dual of the night. The Chieftains clung to a 28-27 lead with four matches to go, but once again, a pin by Carey ignited a stretch of 24 points to close out the competition.
"In a dual setting, the biggest thing for us is going for six minutes," Goebel said. "If we do that and stay off our backs, good things are going to happen, and Luke did that. You've got to put yourself in position to score six points, and he did that."
Himpel, Huseman, Miller and Kissinger also recorded pins, giving them each two on the night. The Chargers didn't have wrestlers at 106, 113 or 195.
Tonganoxie will wrap up the 2012 portion of its schedule on Saturday when it plays host to 11 schools for the Randy Starcher Memorial Invitational. The tournament field is comprised of Atchison, Bishop Ward, Doniphan West, Frontenac, Mound City-Jayhawk Linn, Louisburg, Olathe Northwest (junior varsity), Perry-Lecompton, Piper, Oskaloosa, and Topeka-Shawnee Heights.
"Hopefully (Thursday's wins) will help us heal our nicks and bruises and also heal us mentally to get ready for Saturday," Goebel said. "I think this is a kick-start. We're telling ourselves we've got to put it together and make something happen."
Tonganoxie 55, Ottawa 24
106 — Tonganoxie won by default
113 — Sinjan Gergick (TON) def. Tony Wurtz (OTT), 13-2
120 — Garrett Martin (TON) def. Cale Paquette (OTT), 4-3
126 — Clayton Himpel (TON) pinned Virgil George (OTT)
132 — Sam Carver (OTT) pinned Mitch Brock (TON)
138 — Brandin Bell (OTT) pinned Jordan Boudreaux (TON)
145 — Hunter Peoples (OTT) pinned Steven Stockman (TON)
152 — Asher Huseman (TON) pinned Tristan Morris (OTT)
160 — Caleb Parenti (OTT) pinned Wyatt Weeks (TON)
170 — Tonganoxie won by default
182 — Luke Carey (TON) pinned Dalton Weidl (OTT)
195 — Julius Coats (TON) pinned Connor Gross (OTT)
220 — Thomas Miller (TON) pinned Franklin Windler (OTT)
285 — Zeke Kissinger (TON) pinned Mickey Jensen (OTT)
Tonganoxie 52, Santa Fe Trail 27
106 — Tonganoxie won by default
113 — Tonganoxie won by default
120 — Garrett Martin (TON) def. Colin Koger (SFT), 13-5
126 — Clayton Himpel (TON) pinned Tyler Mundy (SFT)
132 — Andy Dennison (SFT) pinned Mitch Brock (TON)
138 — T.J. Kemble (SFT) pinned Jordan Boudreaux (TON)
145 — Rylan Piper (SFT) pinned Steven Stockman (TON)
152 — Asher Huseman (TON) pinned Trent Padgett (SFT)
160 — Chaz Wright (SFT) pinned Wyatt Weeks (TON)
170 — Ethan Dean (SFT) def. Gus Dent (TON), 9-6
182 — Luke Carey (TON) pinned Darric Cashier (SFT)
195 — Tonganoxie won by default
220 — Thomas Miller (TON) pinned Gabe Forrest (SFT)
285 — Zeke Kissinger (TON) pinned Roman Torres (SFT)