Tonganoxie girls overcome slow start to beat Bobcats
Whitledge leads charge with double-double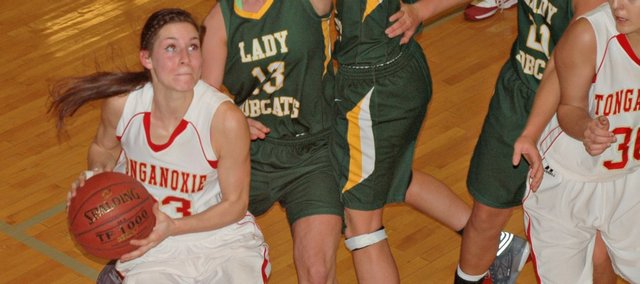 Girls KVL standings
League record, Overall record
Tonganoxie 3-0, 3-0
Mill Valley 2-0, 3-1
Bonner Springs 2-0, 4-1
Basehor-Linwood 1-2, 2-3
Lansing 1-2, 1-5
Piper 1-2, 4-2
Bishop Ward 0-2, 1-5
Turner 0-3, 0-5
Tonganoxie High senior Jenny Whitledge recorded her first double-double of the season with 18 points and 11 rebounds and the Chieftain girls shook off a slow start for a 49-39 victory against Kaw Valley League rival Basehor-Linwood.
The Chieftains (3-0, 3-0 KVL) found themselves in a back-and-forth affair early in the game, as neither team could establish control throughout the first half. THS led by a point at the end of the first quarter, but struggled to get shots to fall in the second. The Bobcats (2-3, 1-2) took advantage and used a late run to take a 25-21 lead into the locker room.
"We were so impatient the first half. That's not our game," THS coach Randy Kraft said. "When we're impatient and start jacking shots, we're not in the flow of our offense."
Basehor-Linwood's Jamie Johnson accounted for 12 of the Bobcats' first-half points. She made Tonganoxie pay from behind the 3-point arc, where she connect three times before the break. She finished with a game-high 21 points.
The momentum quickly shifted in Tonganoxie's favor after halftime, as the Chieftains outscored BLHS by a 16-5 margin in the third quarter. Whitledge, who played a season-high 27 minutes after battling foul trouble in each of THS' first two games, scored eight points in the quarter.
"In the third quarter, we got better looks and just got into a rhythm," Kraft said. "Jenny was taking shots in the flow of our offense. She had a mismatch out there, so she was able to beat her man to the basket. It gave us a big boost."
The Chieftains extended their lead to 10 early in the fourth quarter, but Basehor-Linwood made things interesting down the stretch. The Bobcats whittled the deficit down to four in the final minutes, but THS senior Madee Walker knocked down four free throws to kill the comeback attempt.
Kraft's squad will try to keep its perfect record intact on Tuesday when it takes on Bishop Ward in its first road game of the season. The game against the Cyclones will be played at Kansas City Kansas Community College.
Score by quarters
Basehor-Linwood 10 15 5 9 — 39
Tonganoxie 11 10 16 12 — 49
Individual scoring
BASEHOR-LINWOOD — Jamie Johnson 6-20 5-6 21, Amber Garver 3-11 0-1 7, Victoria Smith 2-6 0-0 4, Marriah Clayton 1-5 0-0 3, Kara Stephens 1-3 0-0 2, Alex Gorman 0-8 2-2 2, Samantha Rutherford 0-1 0-0 Madison McDowell 0-6 0-0.
TONGANOXIE — Jenny Whitledge 9-15 0-1 18, Madee Walker 2-5 5-6 9, Katelyn Waldeier 3-6 2-10 8, Emily Soetaert 2-9 1-2 6, Hannah Kemp 1-6 3-7 5, Kara Banks 1-4 0-0 3, Sarah Ahart 0-1 0-0 0.