Chieftain boys can't slow Sanders in loss to Basehor-Linwood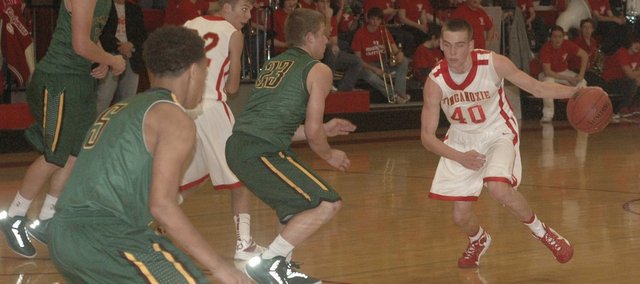 Boys KVL standings
League record, Overall record
Lansing 3-0, 6-0
Basehor-Linwood 3-0, 3-1
Mill Valley 2-0, 3-1
Piper 2-1, 5-1
Bonner Springs 0-2, 2-3
Turner 0-2, 0-4
Bishop Ward 0-2, 1-4
Tonganoxie 0-3, 0-3
The Tonganoxie High boys stayed within striking distance for three quarters, but couldn't counter a 27-point night by Basehor-Linwood's Tim Sanders in a 69-50 loss on Friday.
Thanks in large part to a hot start by freshman Jack Dale, the Chieftains (0-3, 0-3 Kaw Valley League) came out firing and stayed within two possessions of the Bobcats (3-1, 3-0) for the whole first half. BLHS took a five-point lead into the break, but slowly began to pull away in the third quarter. The Bobcats pushed their lead to 10 by the end of the period, and the Chieftains failed to mount a comeback attempt down the stretch.
THS had several opportunities to keep the game close in the fourth quarter, but committed several turnovers and couldn't cash in on free throw attempts.
"If we're going to close out a game, we've got to execute when it matters," coach Shawn Phillips said. "We were terrible offensively down the stretch. We can't go 5-of-19 from the free throw line and we can't turn the basketball over. Every possession is important in a close game, so we can't give the ball away."
Sanders gave the Chieftains problems all night, going 11-for-12 from the floor. His only miss came on his only 3-point attempt. Chase Younger and J.P. Downing joined Sanders in double figures with 12 and 11 points, respectively. Dale led THS with 17 points.
Phillips' squad will try to right the ship on Tuesday when it squares off against Bishop Ward at Kansas City Kansas Community College. The Chieftains went 2-0 against the Cyclones last season, winning both games by double digits.
"You always want to get a win, but right now, we've got to worry about one game at a time," Phillips said. "If we think that any game is going to be easy, then we're fooling ourselves."
Score by quarters
Basehor-Linwood 21 14 15 19 — 69
Tonganoxie 18 12 10 10 — 50
Individual scoring
BASEHOR-LINWOOD — Tim Sanders 11-12 5-9 27, Chase Younger 6-15 0-0 12, J.P. Downing 5-7 1-2 11, Matt Ogilvie 3-5 3-4 9, Zach McNabb 2-7 1-3 5, Jahron McPherson 1-1 1-4 3, Broc Lindsay 1-2 0-0 2, Sean Potter 0-1 0-0 0.
TONGANOXIE — Jack Dale 7-15 1-2 17, James Grizzle 5-9 2-4 12, Eric Tate 3-7 0-2 7, John Lean 2-7 1-4 5, Keaton Truesdell 1-1 0-0 2, Blair Mathisen 1-2 0-0 2, Ben Johnson 1-3 0-0 2, Eric McPherson 1-4 0-2 2, Tyler Ford 0-3 1-5 1, Jared Sommer 0-1 0-0 0, Brady Swedo 0-1 0-0 0.