Tonganoxie wrestling defends home tournament title
Chieftains send 10 to championship round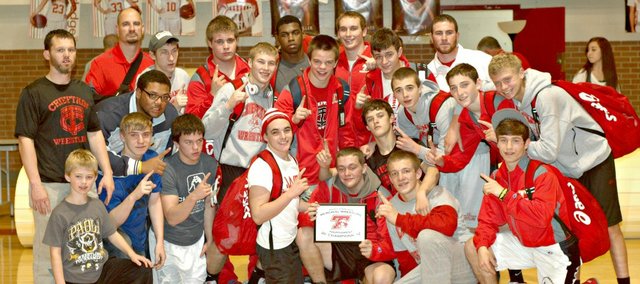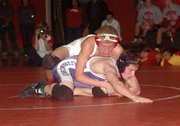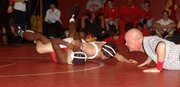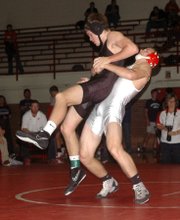 When last week began, Tonganoxie High wrestling coach Jeremy Goebel preached to his athletes the importance of finishing 2012. Goebel's words must have resonated with the Chieftains, because they did just that.
After sweeping a triangular against Ottawa and Santa Fe Trail Thursday at OHS, Goebel's squad returned home for Saturday's Randy Starcher Memorial Invitational. The Chieftains defended their home tournament title, besting 11 visiting schools with a team score of 335 points.
"Last week, we were kind of banged up from the week prior, but we had some kids step up and fill some roles," Goebel said. "They did some great things to help us accomplish that task."
THS went a combined 34-7 in five rounds of pool play and 13 wrestlers guaranteed themselves top-four finishes, including 10 who earned spots in the championship round. Seth Wolf (145 pounds), Wyatt Weeks (160) and Gus Dent (170) made sure the team would start the medal rounds on the right foot when they each won in third-place matches. Wolf hung on for a 6-3 win against Frontenac's Ethan Hess, Weeks scored a late pin against Louisburg's Dylan York and Dent followed suit against Mound City-Jayhawk Linn's Tad Terrman.
The trio of wins gave Tonganoxie a commanding lead over second-place finisher Topeka-Shawnee Heights, which ended pool play just 25 points behind the Chieftains. THS' 10 finalists were the most from any school and made a comeback by the Thunderbirds nearly impossible.
"That was huge," said Asher Huseman, a 152-pound finalist. "It won us the tournament."
Any momentum THS gained in the consolation round didn't carry over to the finals, as Connor Yates (106) and Sinjan Gergick (113) opened with back-to-back losses. Yates was pinned by Hunter Idol of Doniphan West, while Gergick dropped a 4-3 decision to Atchison's Andrew Adrian.
Garrett Martin (120) earned Tonganoxie's first individual title and capped off his perfect tournament record with a 14-4 win against Zach Knox of Louisburg. Not to be outdone, Clayton Himpel (126) also went undefeated and pinned Atchison's Jeff Wallingford in the finals.
Himpel and Martin are the Chieftains' only two remaining undefeated wrestlers with records of 17-0 and 8-0, respectively.
Mitch Brock couldn't duplicate the success of Martin or Himpel, as he was pinned by Atchison's Cody Calhoon. Huseman briefly got THS back to .500 in the championship round with a 9-3 win against Bishop Ward's Dylan DeGroot, but he was the last Chieftain to win a match in the finals. Luke Carey (182), Julius Coats (195), Thomas Miller (220) and Zeke Kissinger (285) closed out the tournament with four consecutive losses to wrestlers from Shawnee Heights.
"The thing is, we've got to finish better in the finals," Goebel said. "Going 3-7, that's not what we had planned. Up to that point, we wrestled extremely well, but we've got to finish. Instead of only winning a couple, we've got to go in with the mindset that we're going to win them all."
Saturday's tournament was Tonganoxie's final action before the school's holiday break. The Chieftains will return to the mat on Jan. 5 when they travel to Louisburg for the Wildcat Classic.
"We're off to a good start," Huseman said. "We've just got to keep conditioning during Christmas break, come back in 2013 and keep the ball rolling."
Overall team results
Tonganoxie, 335; 2. Shawnee Heights, 294.5; 3. Atchison, 209; 4. Louisburg, 117; 5. Frontenac, 103; 6. Piper, 82; 7. Oskaloosa, 79.5; 8. Doniphan West, 79; 9. Bishop Ward, 78.5; 10. Olathe Northwest, 75.5; 11. Jayhawk Linn, 36.5; 12. Perry-Lecompton, 31.5.
THS individual results
Tourney record, Overall record (Tourney finish)
106 — Connor Yates, 2-1, 16-5 (Second)
113 — Sinjan Gergick, 2-2, 9-9 (Second)
120 — Garrett Martin, 4-0, 8-0 (First)
126 — Clayton Himpel, 4-0, 17-0 (First)
132 — Mitch Brock, 2-1, 3-5 (Second)
138 — Jordan Boudreaux, 2-3, 3-11 (Sixth)
145 — Seth Wolf, 3-1, 6-4 (Third)
152 — Asher Huseman, 3-0, 15-2 (First)
160 — Wyatt Weeks, 3-2, 3-10 (Third)
170 — Gus Dent, 3-1, 8-2 (Third)
182 — Luke Carey, 2-1, 9-5 (Second)
195 — Julius Coats, 2-1, 14-3 (Second)
220 — Thomas Miller, 4-1, 14-4 (Second)
285 — Zeke Kissinger, 3-1, 11-3 (Second)