Kemp leads way as
THS

girls stay undefeated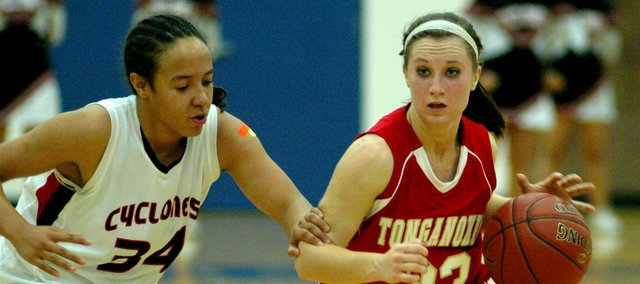 Girls KVL standings
League record, Overall record
Tonganoxie 4-0, 4-0
Bonner Springs 3-0, 5-1
Mill Valley 3-0, 4-1
Basehor-Linwood 2-2, 3-3
Piper 1-3, 4-3
Lansing 1-3, 1-6
Bishop Ward 0-3, 1-5
Turner 0-4, 0-6
Kansas City, Kan. — It took a while for the Tonganoxie High girls to get rolling Tuesday against Bishop Ward, but once they did, their undefeated record was never in jeopardy.
The Chieftains trailed by four points after one quarter, but shook off the slow start for a 56-46 victory against the Cyclones at Kansas City Kansas Community College.
THS (4-0, 4-0 Kaw Valley League) struggled against Bishop Ward's pressure defense in the early going, which allowed the Cyclones (1-5, 0-3) to jump out to a 15-11 lead at the end of the opening period. The lead was short-lived, though, as the Chieftains used a 10-2 run to go in front midway through the second quarter.
"It took about a quarter. I don't think we were fully engaged," coach Randy Kraft said. "They were trying to deny a lot of stuff, and we had some kids that never really did adjust to that very well."
Kraft's squad kept the momentum in its favor for the remainder of the period and took a 30-23 advantage into the locker room. Senior Hannah Kemp scored 11 of her game-high 19 points before the break.
Kemp, who entered the game averaging seven points per outing, attributed her big offensive night to the play of fellow guard Emily Soetaert.
"It's really nice to have a second player at point guard that I can trust," Kemp said. "It sort of lets me not only play point guard in some situations, but I can also be that shooting guard. Tonight, everything just worked out perfectly."
THS wasn't able to extend its lead in the third quarter, but the Chieftain defense didn't allow Bishop Ward to cut into the deficit. The teams traded baskets for the remainder of the game, which prevented any sort of fourth-quarter comeback by the Cyclones.
Junior Katelyn Waldeier joined Kemp in double figures with 10 points and also pulled down a team-best 12 rebounds for her second double-double of the season. Senior Jenny Whitledge just missed a double-double with eight points and 10 rebounds.
"We did a great job on the boards. They're pretty spread out offensively, but we did a pretty good job around there. I think that's one of our strengths.
THS will wrap up the 2012 portion of its schedule at 6 p.m. Thursday when it travels to Garnett for a non-league game against Anderson County. The Chieftains defeated the Bulldogs in last year's meeting, 54-12.
Score by quarters
Tonganoxie 11 19 11 15 — 56
Bishop Ward 15 8 11 12 — 46
Individual scoring
TONGANOXIE — Hannah Kemp 7-12 2-4 19, Katelyn Waldeier 3-12 4-6 10, Emily Soetaert 3-8 2-4 8, Jenny Whitledge 4-10 0-2 8, Madee Walker 1-3 4-4 7, Kara Banks 2-3 0-0 4, Sarah Ahart 0-1 0-0 0.
BISHOP WARD — Taylor Williams 7-22 1-6 17, Frankie Oropeza 5-10 0-0 10, Kendall Nick 4-7 0-0 8, Breana McMillion 3-13 1-2 7, Samantha Morrissey 2-7 0-0 4, Caitlin Reed 0-5 0-0 0.