Yuletide carols for a cause in Jarbalo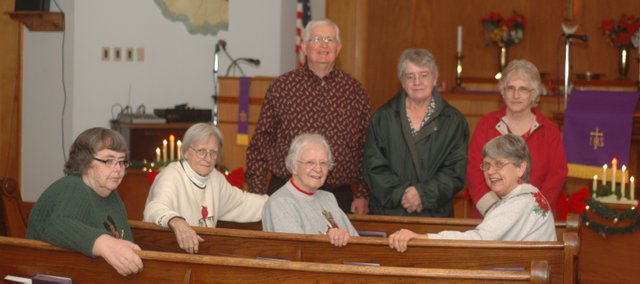 A weathered basketball goal can be found on Jarbalo United Methodist Church's property.
The backboard is catawampus and there is no longer is a rim. There's playground equipment nearby as well as an outdoor picnic shelter, but the playground, like many other locations in town, doesn't get a great deal of use.
Jarbalo is an unincorporated Leavenworth County town northwest of Tonganoxie that covers of four full blocks, plus some surrounding properties.
When entering the town from the east, the Methodist church is the first structure that can be seen.
Though the buildings remain, Jarbalo High School and Oliger Grocery merely stand as remnants of activity in the community years ago.
In this small town, the church has become the community center of sorts.
The Jarbalo Alumni Association has its annual reunion in the church basement, while the Livewires 4-H Club meets there monthly. Fall Creek Cemetery is roughly 2 1/2 miles from the church. The local United Methodist Women chapter offers to serve a meal for families who have loved ones buried at the cemetery, no matter the denomination.
The church certainly is utilized regularly, but its small congregation would like to see a larger membership.
Nearly 20 people are members of Jarbalo United Methodist Church.
"The church is holding its own right now, but it would be nice to have more attendance support," said Marilyn Oxley, the church's treasurer.
Contrary to rumors, the church is not for sale, Oxley said.
Jess Barnett, son of longtime church member Thamar Barnett, attended Christmas services last year with his mother. Since that visit, he has pondered how he might be able to help the church.
Now a Shawnee resident, Barnett decided he could give back by offering a Christmas concert at the church. The vocalist will perform several Christmas songs during a benefit concert, "A Joyful Noise," at 7:30 p.m. Saturday at the church.
"I just have been wanting to do something to try to start a fund that they could dip into in case they needed it desperately," he said.
A 1971 graduate of Tonganoxie High School — Jarbalo High's last class graduated in 1966 before the school consolidated with Tonganoxie — Jess Barnett said the church has been played a major role in Jarbalo's identity.
"The church was such a focal point of that small town when I was growing up and for a lot of years beyond that," he said.
Barnett and his eight siblings sang as a group for church services and he occasionally played the organ. One of his sisters died four years ago, but the family has many memories from the church growing up.
"It was probably most of our socialization, through our connections with the church," he said.
Free-will donations will be accepted for the concert, which Barnett said will include both secular holiday songs and religious Christmas selections.
Thamar Barnett said she was appreciative of her son's efforts.
"I think it's a nice gesture on his part to help us try to keep going," she said.
A member of the United Methodist Women, Thamar Barnett said the church has other fundraisers during the year, from rummage sales and a chili supper to bake sales and the selling of pumpkin pies. She said the group made nearly 40 pies in advance of Thanksgiving.
The Rev. Larry Grove is pastor at the church. He has served in much larger communities, such as Wichita, Salina, Hays and Newton. Now "semi-retired," he serves part-time for the Jarbalo church and Fairmount United Methodist Church near Basehor, which has roughly 30 members.
"A church is a church, no matter its size," Grove said. "They all have their uniqueness."
In Jarbalo, the congregation basically is of retirement age, and; Grove himself is 71.
Grove said churches sometimes are so focused on recruiting younger families that their older members can be dismissed.
He said leaders might look at younger parishioners as the "church of tomorrow" and older members as the "church of yesterday" instead of seeing them all as the "church of today."
"We are precious in God's sight, too," Grove said about older church members.
The United Methodist Church's presence in Jarbalo dates back to the late 1800s. The current church opened in 1958 and its sanctuary can seat roughly 100.
Church members hope the concert will bring in a packed house and, as Grove noted, it's a chance to enjoy fellowship during the Christmas season.
"I think it's a marvelous gesture," Grove said. "I think it is quite wonderful."
Jess Barnett said he's looking forward to performing and reuniting with folks.
"I'm looking forward to seeing a lot of familiar faces I haven't seen for a long time," he said. "It's kind of like going home for Christmas."