Chieftain boys score first win in comeback vs. Ward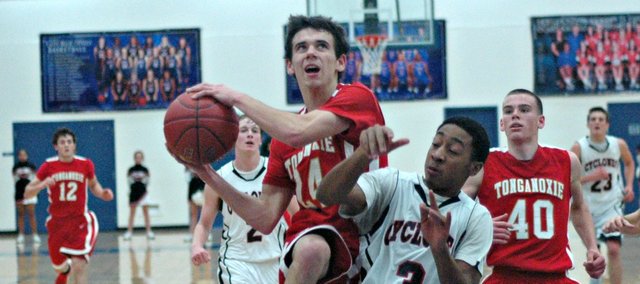 Boys KVL standings
League record, Overall record
Lansing 4-0, 7-0
Basehor-Linwood 4-0, 4-1
Piper 3-1, 6-1
Mill Valley 2-1, 3-2
Tonganoxie 1-3, 1-3
Bonner Springs 0-3, 2-4
Bishop Ward 0-3, 1-5
Turner 0-3 0-5
Kansas City, Kan. — The Tonganoxie High boys got their first win of the season Tuesday against Bishop Ward, but it was hardly an easy task. All the Chieftains had to do was erase a double-digit deficit. Then, they had to do it again.
Coach Shawn Phillips' squad trailed by 12 points in the opening minutes and 13 at halftime, but roared back for a 61-51 win at Kansas City Kansas Community College.
THS (1-3, 1-3 Kaw Valley League) started the second half on the wrong side of a 31-18 margin, but reeled off eight straight points — six by freshman Jack Dale — to get within five. The Chieftains continued to chip away at the Cyclones' lead and went in front on a 3-pointer by senior John Lean at the end of the period.
"We felt like we could still come back and win at half," Phillips said. "We started to get to the rim more in the third quarter, which opened up outside jump shots. It kind of put us in the driver's seat a little bit to finish with momentum for the rest of the game."
The Chieftains scored four quick points to open the fourth and gradually pulled away from the Cyclones (1-5, 0-3). Conventional three-point plays by Lean and junior Tyler Ford, as well as a 3-pointer by Dale made it a 12-point game midway through the period.
"That was huge. It not only puts our confidence up, but it's running through their heads, too," Ford said of the late run. "They were no longer patient. They had to rush things, so that just gave us the upper hand."
Bishop Ward used a 10-2 run of its own to get within four in the final minutes, but the Chieftains extinguished the comeback attempt with several late free throws.
Dale and Ford led THS with 17 and 11 points, respectively.
It looked as though Bishop Ward would cruise to an easy win when it jumped out to a 13-1 lead in the game's opening minutes. The flat start prompted Phillips to replace all five starters with reserves midway through the first quarter.
"There was no effort on the defensive end of the floor," Phillips said. "If you don't to work, then you don't need to play. We decided to sub some other guys and maybe convince the first group they needed to play a little harder."
The move seemingly worked, as the Chieftains opened the second quarter on a 9-0 run to make it a two-point game. The Cyclones quickly regained the momentum, though, as they closed out the half on an 11-0 run of their own.
THS will try to close out 2012 on a win streak when it travels Thursday to Garnett for a non-league meeting with Anderson County. The Chieftains hung on for a 70-67 win in last year's clash with the Bulldogs.
Score by quarters
Tonganoxie 9 9 18 25 — 61
Bishop Ward 20 11 4 16 — 51
Individual scoring
TONGANOXIE — Jack Dale 6-11 4-4 17, Tyler Ford 3-3 4-7 11, Eric Tate 2-6 3-4 8, James Grizzle 4-7 0-0 8, John Lean 2-6 3-4 7, Jared Sommers 3-5 0-0 6, Blair Mathisen 1-5 0-2 2, Ben Johnson 0-1 2-2 2, Keaton Truesdell 0-2 0-0 0.
BISHOP WARD — Evan Brull 6-17 0-2 15, Cole Henley 5-16 1-2 11, Andrew Kump 4-8 2-5 10, Long Ho 5-10 0-1 10, Zach Kolenda 1-5 0-0 3, Armon Selectman 1-2 0-0 2, Xavier Tucker 0-1 0-0 0.