Kroll earns state, regional coaching awards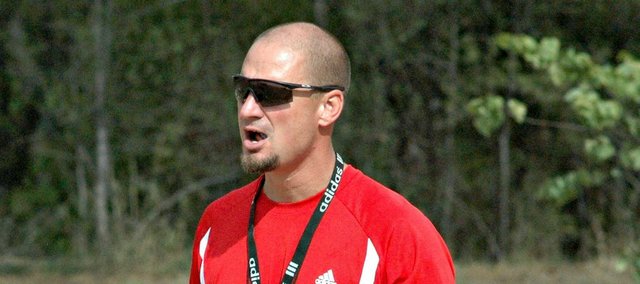 Immediately following Tonganoxie High's historic boys soccer season, individual player honors started rolling in. Now, the coach who led the Chieftains to so much success has also received some recognition from his peers.
Brian Kroll has been named the Kansas Small School Coach of the Year by the National Soccer Coaches Association of America. He was also named the Class 4-1A coach of the year by the Kansas Soccer Coaches Association. The accolades come after a record-breaking season in which THS won a school-best 16 games, captured its first Kaw Valley League title since 1997 and made the school's first state championship appearance in any head-to-head sport.
"To be recognized and see my name up there, if anything, it means the program is starting to become legitimate," Kroll said. "Honestly, it's an honor, but it validates that what I'm doing is working. I've picked up tools from all the coaches I've had in my life. That's where all of this comes from."
Kroll, who took over as head coach prior to the 2010 season, led THS to the regional finals in his first year. The team went a step further a year ago, reaching the Class 4-1A state quarterfinals. Powered by nine seniors in 2012, the Chieftains' continued to improve. They went 12-3-1 in the regular season — highlighted by a nine-game win streak — and defeated Eudora and Basehor-Linwood in regionals to return to the state quarterfinals. In front of a home crowd, THS beat De Soto, 2-1, to punch its ticket to the state semifinals at Piper.
The road didn't stop in the semis, as Kroll's squad upset McPherson, 3-1, to reach the state championship match against Topeka-Hayden.
"I got together with the captains before the season, and everyone picked us for about a .500 season," Kroll said. "None of us knew there was never a state team in Tonganoxie history, and I'm glad none of us knew that."
In addition to the state awards, Kroll was the runner-up for the NSCAA Region V Coach of the Year. The region is comprised of seven states, including Kansas, Missouri, Nebraska, Iowa, Illinois, Minnesota and Wisconsin.