THE

BEST

OF

2012: Boys soccer's state run voted year's top sports story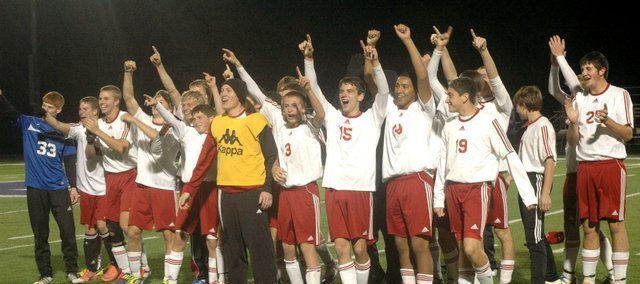 From a record-breaking soccer season to a career milestone on the basketball court and the end of a 38-year coaching era, the Tonganoxie sports scene was hardly short on memories in 2012. Success came early and often for numerous Chieftain teams, many of which reached new heights and enjoyed unprecedented success. Here are the top sports stories of the year, as voted on earlier this month by Mirror readers (click dates for full stories):
Nov. 2: Tonganoxie High boys soccer upsets McPherson to reach state finals (23 percent)
McPherson had the nearly-perfect record, the high-powered offense and the lopsided season scoring margin. Tonganoxie had the composure, the determination and the veteran leadership.
As the Chieftains proved, when the state tournament arrives, numbers mean absolutely nothing.
Matt Saathoff had a hat trick — highlighted by two second-half penalty kicks — Keaton Truesdell recorded 29 saves and THS punched its ticket to the Class 4-1A state title game with a 3-1 semifinal victory against McPherson at Piper High School.
The 29 saves were a season-high for Truesdell, who started in the goal in each of the last four years. The Chieftains' three goals were the most by any McPherson opponent. Entering Friday's match, the Bullpups had allowed just seven goals all season and recorded 14 shutouts en route to a 93-7 scoring differential in 2012.
"It took everything we had," Truesdell said after the win. "The defense put out all its effort to keep them from getting any really good shots, and we got a couple good breaks."
With the win, THS guaranteed the school its first-ever state title game appearance in a head-to-head team sport. The Chieftains fell to Topeka-Hayden in the finals, 5-1. McPherson lost to Kansas City Christian in a consolation match.
Feb. 21: Chieftain forward Dane Erickson scores 1,000th point on senior night (22 percent)
Before Tonganoxie's senior night matchup against Piper, Dane Erickson had no idea he was nearing a milestone.
Entering the game against the Pirates, the 2012 THS graduate was just seven points shy of 1,000 for his career. Whether he knew or not, he wasted little time reaching that mark.
Erickson scored the team's first eight points and 27 total in a 65-49 win against the Pirates on senior night.
"During the break at the quarter, Coach (Shawn Phillips) told me I'd hit 1,000 points on my last shot. I had no idea," Erickson said. "It means a lot to me, but I couldn't have done any of it without my teammates' help. I didn't do it alone."
Late in the fourth quarter, Phillips put his five seniors — Erickson, Ben Williams, Colby Yates, Dylan Jacobs and Brady Waldeier — on the floor and had them each individually named.
May 21: Chieftain golf finishes second at state, Colby Yates wins individual title (14 percent)
Well before the Class 4A state tournament began, Tonganoxie High golfers knew they'd have to battle to defeat Kaw Valley League opponent Piper on its home course. The Chieftains couldn't quite get over the hump, but they gave the Pirates all they could handle.
THS fell one stroke shy of a state title, recording a team score of 313 at Dub's Dread Golf Club. It was the second straight runner-up finish for coach Jared Jackson's squad.
As he's done so many times in his Chieftain career, 2012 grad Colby Yates clinched an individual title. He tied his career-low with a 69 to the defeat the second-best finisher by four strokes. Yates birdied on the final three holes and received an ovation from the crowd as his ball fell into the cup on the 18th green.
"If you would have told me I'd shoot a 69 with all the pressure and stuff, I'd have told you you were crazy. This is the first time I've broken 70 all year and I couldn't have asked for a better time," said Yates, now a member of the men's golf team at the University of Missouri-St. Louis.
May 29: Jenny Whitledge wins state high jump title, Haley Griffin takes second (12 percent)
Regardless of the stage, Tonganoxie High's Jenny Whitledge didn't have much trouble adding to her track and field resume during her junior season.
Whitledge, who medaled consistently in four events in 2012, won her second straight Class 4A state title in the high jump at Wichita State's Cessna Stadium. She won the event with a jump of 5 feet, 4 inches — the same height with which she won the 2011 title as a sophomore.
Then-sophomore Haley Griffin finished second behind Whitledge with a jump of 5-2. The jumpers finished side-by-side in nearly every meet last season.
"Honestly, it's the greatest feeling I've ever had in my entire life," Whitledge said. "(Griffin) makes everything easier for me. She's there to support me and when I'm upset, she's always there for me. I'm glad to have her."
Whitledge and Griffin recorded the Chieftain girls' only 18 points of the weekend. THS finished 11th in the team standings.
Oct. 27: Cross country coach Phil Williams retires after 38 years in Tonganoxie (8 percent)
After nearly four decades at the helm of the Tonganoxie High cross country program, Phil Williams has decided he is ready to pass the torch.
Williams, who took over as head coach in the fall of 1975, announced his retirement following the conclusion of the 2012 season. His retirement marks the end of a tenure that included 22 league titles, seven regional titles and one state title.
"I told the kids I picked this year because everything went so well," Williams said. "It wasn't our most successful year record-wise, but it was one of the most enjoyable. I wanted to have a good, positive memory of cross country."
In addition to the long list of team awards, THS has produced countless individual state qualifiers under Williams' watch. Janet (Magner) Strickland became the school's first-ever individual state champ in 1989 and Jason Hagg followed suit in 1991 — the same year in which the Chieftain boys won a state title.
Williams retired as boys track and field coach in 2011. He's also had stints as an assistant coach on the football and basketball teams, and he's currently the announcer for home football and basketball games.
Other nominees
Tonganoxie wrestling wins first Kaw Valley League title since 1991 (7 percent)
Coach Al Troyer leads Chieftain football to first district title since 2005 (7 percent)
McLouth football wins district, ends seven-year playoff drought (4 percent)
Late-season surge propels THS girls soccer to first-ever state appearance (3 percent)