FINDING

THEIR

WAY

: New signs intended to help guide visitors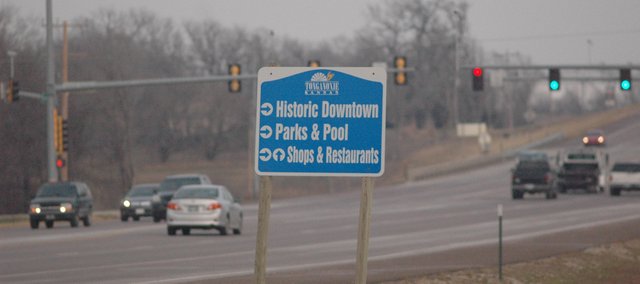 Several "way-finding" signs soon will be guiding visitors through Tonganoxie.
The first signs were installed this past week along U.S. Highway 24-40, two near Main Street and two more near Kansas Highway 16.
More signs will be installed throughout the city directing visitors to restaurants, shopping, parks, schools and the Tonganoxie Water Park.
A total of 26 signs were purchased for $7,412 from Miller Sign Shoppe in Bonner Springs. City crews will install the signs throughout town.
The signage is a project the Tonganoxie Retail Commercial Development Committee has been tackling the last several months.
"I think it will be an asset to visitors and those who are new to town in finding the wonderful resources in Tonganoxie," said Cheryl Hanback, an RCDC member who has worked with other RCDC members and city officials to determine where signs should be installed.
"I think it makes us look a little more updated and inviting," Hanback said. "It's welcoming people to our town. It's like putting out the red carpet and saying 'welcome to our town.'"
The RCDC was created in 2008 as part of the Retail Commercial Development Plan 2020.
The committee, which has a $10,000 budget through the city annually, works on various projects each year.
Other projects the committee has spearheaded in recent years: brochures promoting Tonganoxie businesses, as well an overall visitors' brochure. The group also created the website gotonganoxie.com to promote the community, as well as the decorative blue Tonganoxie banners that can be seen throughout downtown.
Tonganoxie City Council member Bill Peak, who also is an RCDC member, agreed with Hanback about the signs' presence.
"Our main goal was to help people from out of town to get around and be aware of what's in town and is easier to get to," Peak said. "And also people can be aware of our parks and pool, library and City Hall."
The signs also will bring more attention to the downtown area, which Hanback said was key.
"It's a good marketing strategy for the city," Hanback said. "Downtown is so invisible when you're on 24-40."