A
LOOK

BACK

: Top stories of 2012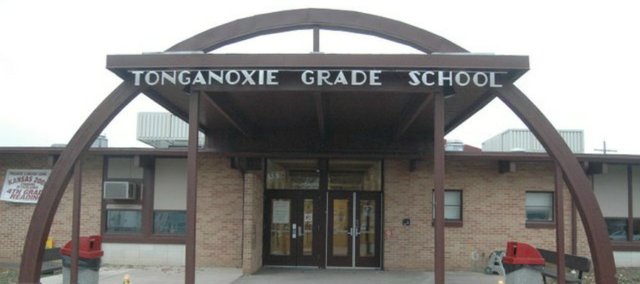 2012 offered plenty of headlines in the Tonganoxie area.
The Mirror conducted an online poll asking readers what the top stories of 2012 were.
Here's a look at the top stories:
1. District voters pass USD 464 bond issue
Voters were asked in November whether to approve a $27.2 million bond issue that would fund a new elementary school near Tonganoxie Middle School. The question passed with nearly 60 percent of the vote, 2,661-1,802.
The outcome was an about-face from an April 2011 bond question in which voters said no to a $26.9 million bond issue that would have funded additions to the elementary and high schools and construction of an intermediate school. Voters said no to that question with 62 percent of the vote (1,111-629).
In a November interview, Tonganoxie USD 464 Superintendent Randy Weseman said he thought the bond was successful because the school board moved forward with a "pragmatic, common sense plan" for the new elementary school, which is expected to be about 30,000 square feet. It will be home to grades kindergarten through fifth grade. The current 5-8 middle school will be home to grades 6-8 after the new elementary school is constructed. The current elementary school is home to grades K-4 and would become a mixed-use building.
"My belief is Tonganoxie supports its kids and public education," Weseman said after the election. "It will be a solid, practical elementary school. It will serve our kids a lot of years."
Though the bond issue is for $27.2 million, state aid will contribute about $9.3 million.
The building is expected to be completed before the 2015-16 school year.
2. Two-vehicle accident claims life of Genesis Christian Academy teacher
Ronda Andrews was preparing to start her 11th year as a teacher at Genesis Christian Academy in August.
The beloved teacher died in a two-vehicle accident Aug. 10 at 158th Street and U.S. Highway 24-40.
More than 100 people gathered at Chieftain Park to run in Andrews' honor days later. Andrews was an avid runner and a member of the Tonganoxie Running Club.
Sharon Beeman, GCA administrator, said Andrews challenged students twice to raise money for mission work in Russia. For every $100 raised, she pledged to eat a nightcrawler. Both times she challenged students, they raised roughly $1,200, and Andrews gulped down 12 worms.
The money went to GCA's sister school in Russia for a new copier and the other time for a mission trip there.
Students pledged to eat worms once, a prank in which all the students had gummy worms ready to eat. For a mission trip, the GCA contingent had healthy helpings of gummy worms with Russian counterparts.
"She was one of the most giving people. She was by far one of the most gifted teachers I've had the privilege to work with," said GCA administrator Sharon Beeman.
The Basehor intersection where the accident occurred has been notorious for accidents. A stoplight recently was installed there.
3. Tonganoxie High debate team reaches state for 20th straight year
The Tonganoxie High debate team won its Class 4A regional earlier this month at Olathe Northwest High School in four-speaker action, marking the 20th consecutive year in which Tonganoxie advanced to the state tournament.
THS finished in first, just ahead of Spring Hill and Rock Creek at the regional. Christopher Tiner, Hunter Cook, Hannah Pray and Austin Harris are four-speaker team members this year, with Annie Holton and Kate Ebbert serving as alternates.
For the first time, Tonganoxie will play host to state debate. The Class 4A and Class 3-2-1A state tournaments will take place Jan. 12-13 at THS.
4. Drought of 2012
Precipitation was hard to come by in 2012.
The drought did a number on corn and soybean crops, as well as the cattle industry. The U.S. Department of Agriculture reported in October that the number of cattle headed to feedlots in Kansas in September was down 25 percent from September 2011 and tied for the worst month ever.
Other nominees:
• Nathan McCommon hired as Tonganoxie city administrator
Tonganoxie City Council hired Nathan McCommon as its newest city administrator in April.
A 1986 graduate of Jefferson West High School in Meriden, McCommon holds a bachelor's degree in Spanish literature and a master's degree in public administration from Kansas University.
He has previous municipal experience in Sedgwick County and Topeka, as well as Kissimmee, Fla.
• Tonganoxie Police Department has a new home
The Tonganoxie Police Department moved from its longstanding home at Fourth and Delaware across the street to the west.
The department had been looking to move to the Everlasting Specialties building in the Urban Hess Business Center, but those plans fell through. Mold issues then forced the police to move elsewhere. The department now is across the street in the former Kansas Firearm Specialties space.
• Tonganoxie City Hall turns 100
Tonganoxie City Hall was built in May 1912 for a mere $1,650.
A century later, the structure, at 960 square feet, still is used for city offices today.
• Tonganoxie Chamber undergoes restructuring
When former Tonganoxie Chamber of Commerce director Susan Freemyer resigned to accept another job, Chamber board members requested a special meeting to discuss the future of the organization in June. The board announced that finances didn't allow for hiring a new director. Board members resigned because not having enough time to commit to the board as well. Some stayed on board and other chamber members stepped forward to keep the organization intact.
• Former Tonganoxie city administrator, council member square off in county commission race
A Tonganoxie City Council member will squared off in a Leavenworth County Commission race against the former city administrator whose contract he voted not to renew.
Tonganoxie City Council member Dennis Bixby, a Tonganoxie Republican, faced Mike Yanez, a Tonganoxie Democrat, in the November general election for the 3rd District commission seat.
On a 3-2 vote, the Tonganoxie City Council voted not to renew Yanez's contract. He was retained on a part-time basis from January until mid-May when McCommon was hired.
Bixby won the race and will begin is position as county commissioner next month. He replaces Basehor Republican John Flower, who did not seeking re-election.
• Changing landscape of businesses opening, closing in Tonganoxie
Tonganoxie has seen the opening of new restaurants: Flashbacks, Jalapeno's and Mirth Café Too and the closing of another restaurant, Bichelmeyer's.
Other businesses have opened, including a pet grooming business and a tanning salon in downtown Tonganoxie.