THS

grad Jeannin named volleyball All-American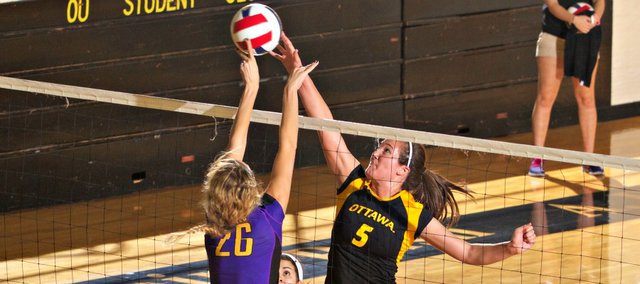 When Chrissie Jeannin was named an All-American, the news was supposed to come as a surprise. Social media somewhat spoiled the announcement, but it did nothing to spoil the significance of the moment.
Jeannin, a 2009 Tonganoxie High grad and current Ottawa University senior, recently received an honorable mention recognition on the 2012 Tachikara-NAIA Volleyball All-America Team. The honor comes after Jeannin led the Braves to a 30-6 record, including an 18-0 mark in the Kansas Collegiate Athletic Conference.
"Actually, I found out on Twitter since I follow our conference," Jeannin said of her selection. "At first, I didn't believe it. I was looking at it on my phone, so I rushed back to my house to check the computer and see if it was actually true. The coach tried to surprise me at a dinner that we had the next day, but I already knew.
"I'm one of the hardest people on myself. I had a good year, but I still knew what I did wrong, so it was kind of a surreal moment. I think it sunk in after a couple minutes."
A four-year starter at Ottawa, Jeannin enjoyed a solid senior campaign in which she tallied 104 kills, 1,289 assists, 29 service aces, 266 digs and 54 total blocks, all while maintaining a .314 hitting percentage. Her numbers earned her just the second All-America recognition in school history. She joins Emily Foster, who was named an honorable mention in 2002.
Success came early and often for the Braves in 2012, as the senior-heavy squad won its first four matches and never looked back. The team closed out the regular season on a 15-match win streak — a span in which it lost just seven sets — and then won the KCAC tournament on its way to an appearance in the NAIA national tournament.
"We knew were going to have a good team this year," Jeannin said. "We had a couple girls last year who redshirted, but we had everybody back this year. Most of us were seniors or juniors. We just started winning and beat the top teams in the conference. Everyone wanted to go out like that in their last season."
Jeannin will leave the program with her name scattered throughout the record book. She ranks in the top-10 in several career categories, including assists (second with 4,203), digs (fifth with 1,136), total blocks (208), service aces (sixth with 94) and hitting percentage (eighth at .249).
During her time as a Chieftain, Jeannin was a three-year letterwinner in volleyball. She helped THS to a third-place finish at the 2007 Class 4A state tournament. She credits much of her success at the collegiate level to the success she enjoyed under coaches Brandon and Tiffany Parker in Tonganoxie.
"Whenever we would do sprints, Tiffany would always say the setters never come in last. That kind of stuck with me," she said. "The team with the best setter wins since they're the one who's always on the court. We always had success in Tongie, so that really helped me to keep going."
Jeannin currently is a member of the Braves basketball team, which opened its season on Nov. 30. She plans to graduate in the summer of 2013 with a degree in human services.