Tanning salon opens doors in downtown Tonganoxie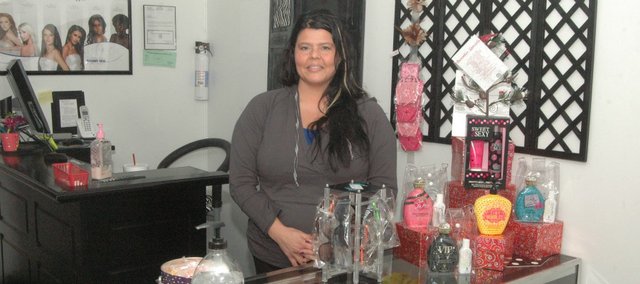 The winter weather might not be conducive to tanning season, but a downtown Tonganoxie business is making it possible to get a tan anytime.
Dimmy and Randy Knipp opened Tan Time in November in the former Tongie Office Supply location.
Dimmy Knipp said it was an ideal time of year to open, as some people are tanning in preparation for vacations in warmer locations.
"And some people don't like to tan outside," Knipp said about tanning during the summer months.
Dimmy Knipp has worked in retail several years and was ready to take the plunge into owning her own business. She also has enjoyed tanning for some years.
"This is our first tanning salon," she said.
Knipp has worked several years in retail, and still works at Nebraska Furniture Mart. She has scaled back to working quarter-time at the Kansas City, Kan., store while operating the new business with her husband.
The salon offers spray tans and tanning beds, as well as body wraps. Knipp also sells a handful of other products: handbags, sunglasses, tanning lotions and women's clothing.
Knipp said business has been "going pretty good," with a list of about 70 clients.
Tan Time is open 10 a.m.-7 p.m. Mondays through Thursdays and 10 a.m.-4 p.m. Fridays and Saturdays.
"Customers have been great," Knipp said. "It's been a fun experience."