THS

lifters nearing season opener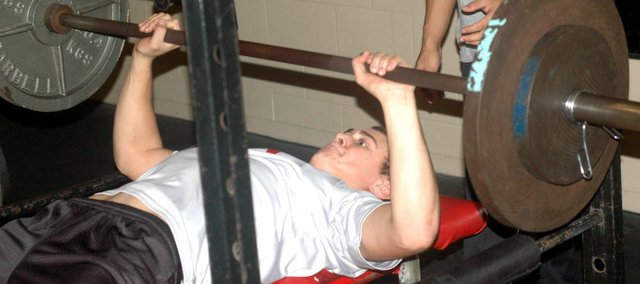 Wrestling and basketball have been under way for several weeks at Tonganoxie High, but another Chieftain team still is awaiting the start of its 2013 campaign.
The THS powerlifters have been hard at work in the weight room since practices began in November, and with the season opener now less than two weeks away, things are starting to heat up.
"We've been working harder," senior Tyler Zinser said. "Most of us have weights during school, then we come here and we work out even more. We'd like to win state, but I really want to see people improve and beat their records."
The Chieftains will open the fifth season in program history on Jan. 12 at McLouth, and they'll do so with several 2012 state placers still on the team. The girls will feature a senior-heavy roster that has helped the squad to back-to-back third-place finishes at state. The boys, on the other hand, will look from production from numerous underclassmen who had an impact a year ago.
Seniors Jaycee Knipp, Jo Kissinger, Shelby McDaniel, Jessica Sommers, Stephanie Miller and Hedvig Langehaug will lead a girls team that recorded 28 points and had two individual champions at state last year. Current junior Jessica Rubio and 2012 graduate Makayla Sample each won their respective weight classes and combined for 20 of the team's 28 points.
Coach Matt Bond must replace Sample and state placer Parker Osborn, but a long list of veterans will likely make that a less daunting task. Miller, Sommers and Knipp were all state participants, and junior Allison Thompson took fourth in her weight class.
"I think our girls can place in the top five in the state," Bond said. "We've got some good ones coming back."
The outlook isn't quite as clear on the boys team, which scored just five points at state last year. Juniors Cole Holloway and Hunter Sturgis each placed and scored two points, while 2012 grad Derek Lingo scored one.
In addition to Lingo, the boys will be without Tyler Stockman, who lifted for four seasons.
"On the boys side, it will be a little more difficult, but the biggest things I'd like to see is I'd like to see them try to break their personal records at each meet," Bond said.
Zinser, the team's only senior this year, will look to make a splash at state in his final season. He finished second in his weight class in the hang clean in 2012, but fell just two spots short of placing overall.
Following the season opener at McLouth, the Chieftains will compete in meets at Royal Valley (Hoyt), Basehor-Linwood and Horton. The state meet is scheduled for March 9 in Abilene.
THS powerlifting schedule
Jan. 12 — at McLouth
Jan. 26 — at Royal Valley (Hoyt)
Feb. 9 — at Basehor-Linwood
Feb. 23 — at Horton
March 9 — State (Abilene)