Tonganoxie boys dumped by Bobcats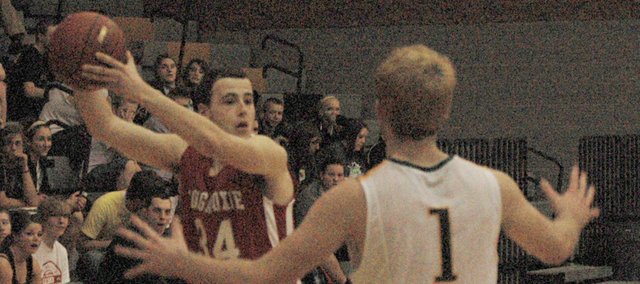 Photo Gallery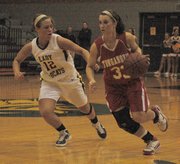 Tonganoxie at Basehor-Linwood
The Tonganoxie High basketball teams travelled to Basehor-Linwood on Tuesday. The Chieftain girls picked up a 54-36 victory, while the boys suffered a 63-39 loss.
Basehor — Before ever getting on the bus, Tonganoxie boys coach Shawn Phillips knew his squad faced a tall task in Tuesday's game at Basehor-Linwood. As it turns out, that mountain proved too steep to climb.
Senior Colin Murphy led all scorers with 18 points on 8-of-9 shooting and the BLHS rolled to a 63-39 victory over Tonganoxie.
The Bobcats (10-3) wasted little time grabbing control of the game, as they burst out to a 17-6 lead at the end of the first quarter. Tonganoxie struggled to find its offense in the early going. It didn't get on the scoreboard until a layup by junior John Lean with 4:34 left in the opening period.
The Chieftains (6-7) seemingly jumped out in front in the opening seconds, as senior Dane Erickson sunk a layup on the first possession, but the basket was waved off and Erickson was called for an offensive foul.
"I think that took a little bit of wind out of our sails," Tonganoxie coach Shawn Phillips said. "We didn't have any energy from that point. We were ready to explode, but then we were in shock."
Lean, who led Tonganoxie with 12 points, was the only Chieftain to score in the first quarter. Erickson, the team's leading scorer this season, finished with just seven points on six shot attempts.
BLHS continued to pull away in the second, opening the period on a 14-5 run. Things remained lopsided for the rest of the half and the Bobcats took a 40-15 lead into the locker room.
Any thoughts of a comeback were immediately erased when BLHS opened the third quarter on a 10-4 run. The Bobcats utilized their post players for the duration of the second half, and Tonganoxie couldn't find an answer. In addition to Colin Murphy's 18 points, fellow seniors Ryan Murphy and Brad Waterman scored nine apiece.
"Obviously, we've got three guys we can rotate in and out. All three of them can post up," McBride said. "The Murphy twins are shooting over 60 percent for their careers, so that's pretty normal."
Things got worse for the Chieftains when they lost their top scoring threat midway through the third quarter. Lean picked up his fourth and fifth fouls in a span of less than two minutes, ending his night with 4:33 left in the quarter. He was the only Tonganoxie player to reach double figures.
"John Lean always gives me everything he's got," Phillips said. "He's out there competing the best that he can. When we were down pretty big, I couldn't sit him, so he had to play. Unfortunately he got some fouls, then we had fewer scoring options on the floor."
The Bobcats extended their lead to 58-27 at the end of the third, which put a running clock into effect for the duration of the final period.
Both teams will return to the hardwood on Friday. Tonganoxie will continue its road trip at Piper, while BLHS will welcome Turner to its home floor.
Score by quarter
Tonganoxie 6 9 12 12 — 39
BLHS 17 23 18 5 — 63
Individual scoring
TONGANOXIE — John Lean 2-7 8-8 12, Dane Erickson 3-6 1-2 7, Colby Yates 2-3 1-2 7, Josh Ghale 3-6 0-0 7, Tyler Ford 1-3 2-2 4, Dylan Jacobs 0-5 2-2 2, Ben Williams 0-1 0-0 0, Eric Tate 0-1 0-0 0, Brennan Williams 0-3 0-1 0.
BLHS — Colin Murphy 8-9 2-6 18, Ben Johnson 5-7 0-2 10, Ryan Murphy 3-7 2-2 9, Brad Waterman 4-5 1-2 9, JP Dowling 1-2 1-2 4, Chase Younger 2-7 0-0 4, Tanner Garver 1-3 0-0 3, Caleb Hiss 1-3 0-0 3, Tim Sanders 0-0 2-2 2, Matt Ogilvie 0-1 1-2 1, Zach McNabb 0-1 0-0 0, Sean Potter 0-3 0-0 0.