Grass fire spreads through Basehor Christmas tree farm
Blaze one of four reported in Leavenworth County on Thursday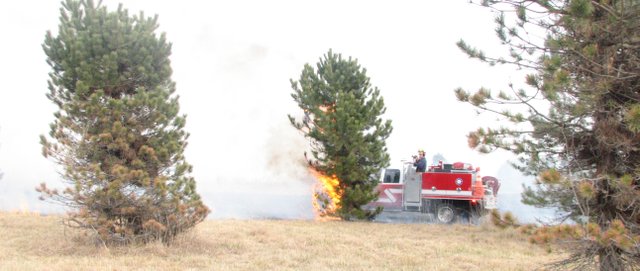 A grass fire burned through several acres of a Basehor Christmas tree farm Thursday afternoon, one of at least four blazes treated by Leavenworth County fire departments Thursday.
Firefighters from four fire departments, riding in eight different vehicles, drove around Basehor's Wilderson Tree Farm and two adjoining properties, putting out flames that left about 10 acres of land blackened and climbed up Christmas trees on the north end of the farm.
Leavenworth County Emergency Management director Chuck Magaha, at the scene of the Basehor blaze, guessed that about 100 trees fell victim to the flames.
Magaha said the recent spate of grass fires — there were four in Leavenworth County on Thursday and five on Wednesday — had been caused by a winter that's been perhaps unprecedentedly dry.
"This stuff's like gasoline," Magaha said, pointing to the thick layer of dry, dead grass and brush that covered the ground of the tree farm.
The Basehor fire started at about 1:30 p.m. Thursday, Magaha said, and crews had the blaze under control by about 2:30. 
The fire started on a property adjoining the tree farm on the east. Dennis Nichols said a brush fire had started in his backyard Thursday after he had dumped some charcoal there two days before, and he was unable to stop it from spreading.
Nichols, a longtime neighbor of the tree farm and its owner, Chuck Wilderson, said he felt bad that the fire had burned his friend's trees.
"Man oh man, what a mess," Nichols said.
Attempts by the Sentinel to reach Wilderson on Thursday were unsuccessful. Wilderson, a longtime community leader and volunteer in Basehor, told the Sentinel about a year ago that he planned to wind down operations at the tree farm within the next five years. The farm began selling Christmas trees in 1982.
Crews from the Tonganoxie city, Fairmount Township, Stranger Township and Leavenworth County Fire District No. 1 fire departments responded to the Basehor blaze. Grass fires also broke out Thursday near Leavenworth County Road 1 and Hemphill Road south of Tonganoxie, off Kreider Road near Linwood and in Alexandria Township near 222nd Street.
Most of the county's recent fires have begun when residents with proper permits began burning brush and other materials, Magaha said, but the dry and windy conditions caused them to get out of hand. If the problem continues, he said, the county may need to institute a burn ban.
If possible, he said, residents should put off any burning until the spring. Even with rains forecasted for this coming weekend, the situation is unlikely to improve.
"We're going to be in this boat until it starts greening up in April," Magaha said.
If they do burn anything, he said, residents should make sure winds are blowing at less than 10 miles per hour and that they have adequate water and people present to control the flame.