Ready for six more weeks of winter? Tonganoxie Phil sees his shadow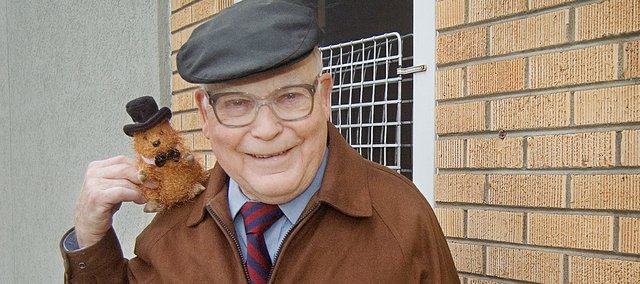 Perhaps there's a bit of reverse psychology in Tonganoxie Phil's prognostication this Groundhog Day.
The local answer to Punxsutawney Phil, Tonganoxie Phil is physician Dr. Phil Stevens.
Tonganoxie Phil saw his shadow Thursday morning — as did his Pennsylvania pal Punxsutawney Phil — which, by Groundhog Day lore, means six more weeks of winter.
That might not be all bad this particular winter.
"I have high hopes," Tonganoxie Phil said. "If the coming spring is as nice as January, we're going to be OK. And we're finally going to get some rain."
His prognostications started 20 years ago when a Kansas City radio station was searching for its own Punxsutawney Phil. After a few years the station no longer checked in with Tonganoxie Phil, but people still ask him "several times each year" about the weather.
Asked about the last time he didn't see his shadow, Tonganoxie Phil said he wasn't certain.
"I've been doing this so along, everything's kind of fuzzy," he said. "But that is appropriate for a groundhog to be fuzzy."
Though he's a predictor of weather, Tonganoxie Phil said he doesn't envy meteorologist who evaluate the weather daily.
"I have a lot easier job than a regular forecaster because we only have to do it once a day," he said, referring to the roles of Punxsutawney Phil and him. "We just have to think about it and wait for the sun to come out. It's pretty easy."
His forecast might not be far off, at least initially. Meteorologists are expecting snow this weekend. Regardless, it's been an unseasonably mild winter so far.