Warriors aim for more improvement on hardwood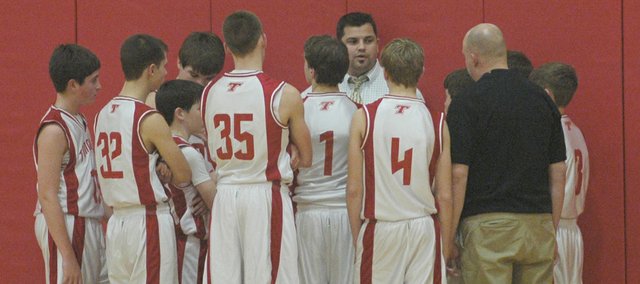 Photo Gallery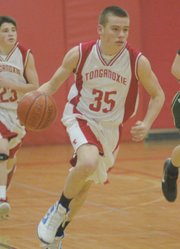 Tonganoxie Middle School vs. Atchison
The Tonganoxie Middle School boys basketball team improved to 4-3 on Thursday with its 23-2 win over Atchison.
Year in and year out, Tonganoxie High students enter the gym in hopes of earning a spot on the Chieftain boys basketball roster.
Before they ever set their sights on a red and gold jersey, though, most stepped out on the floor as Warriors at Tonganoxie Middle School.
This year's eighth-grade team includes 21 players. Some began the season with several years of experience under their belts, while others had never participated in an organized game.
"We've got probably three or four guys who are just now picking up a basketball for the first time," TMS coach Ryan Scott said. "With all the hard work they've distributed over at practice, they're starting to pick up the game a little bit more."
Since the Warriors first began practice last December, coaches have placed a great deal of emphasis on basic fundamentals, as well as teamwork. The team currently boasts a 4-3 record, including Thursday's 23-2 win over Atchison.
While he admitted there is still room for improvement, Scott has seen improvement across the roster since players first took to the floor.
"After (Thursday's) game, we kind of took a step back, but we got the win," he said. "I'd say we're almost there. We can see a little bit more teamwork and more leaders throughout our team. I think they'll be ready for high school ball.
"If we can't play as five, then our high school is not going to be successful."
Scott's squad still has a handful of opportunities to improve before the end of the season. The Warriors will play host to Monticello Trails on Monday, followed by a trip to Clark on Feb. 14. Both games will begin at 4 p.m. TMS will wrap up its 2012 campaign at the Kaw Valley League tournament, which will take place Feb. 22-25 in Basehor.
2012 TMS boys roster
00 — Noah Arthaud
0 — Zack Warmoth
1 — Dalton Trimble
3 — Luke Aitkens
4 — Heath Martin
5 — Bryce Dane-Wilcox
10 — Josua Lingo
11 — Grant Elston
12 — Isacc Nickel
13 — Cody Pollum
14 — Tommy Ford
15 — Dawson Jones
20 — Solomon Dill
21 — Kyle Fain
22 — Ryan Malone
23 — Tyler Novotney
24 — Alex Kroll
25 — Billy Kelley
32 — Ryan Musick
33 — Will Perich
35 — Jack Dale