Late surge propels
THS

boys past Piper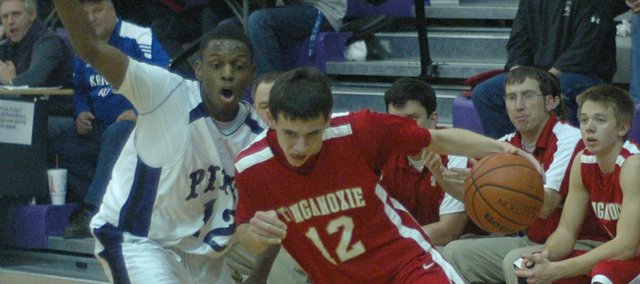 Photo Gallery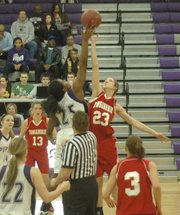 Tonganoxie at Piper
The Tonganoxie High basketball teams travelled to Piper on Friday, and both left victorious. The girls picked up a 37-33 win, while the boys came back for a 72-67 victory.
Kansas City, Kan. — The Tonganoxie boys led by as many as nine, trailed by as many as eight and watched the lead change seven times, but they found themselves in front when it mattered most: the final buzzer.
Senior Dane Erickson and junior John Lean each scored 21 points and THS erased an eight-point, fourth quarter deficit in a 72-67 win at Piper on Friday.
"Any time you can get a win on the road, that's good," coach Shawn Phillips said. "Teams usually play with a lot of energy at home. Coming here to Piper, they played very, very well. To come away with a win, we're pretty fortunate."
After a back-and-forth affair in the opening period, it looked as though the Chieftains (7-7) started to take control in the second quarter. A jump shot by senior Dylan Jacobs sparked a 12-6 run that gave THS a 40-33 lead at halftime.
Tonganoxie spent most of the first half without Erickson, who picked up two fouls in the first quarter, but Jacobs rose to the occasion with 12 points before intermission. He finished with 15 points and 10 points for a double-double.
"It's all about confidence," Jacobs said. "If you have confidence coming in, you're going to play good. I just kept my confidence with Dane on the bench and we all worked together and got it done."
Any momentum the Chieftains took into the locker room went away in a hurry, though, as the Pirates (3-12) erased the halftime deficit in less than three minutes. They opened the third quarter on a 15-2 run to go up 48-42 and maintained a six-point lead for the rest of the period.
Calvin Johnson extended the Pirates' advantage to 58-50 in the opening minute of the fourth, but the Chieftains came storming back. A layup by Erickson ignited a 12-3 run that put the Chieftains on top, 62-61, and a seesaw battled ensued.
Erickson, the team's leading scorer this season, scored seven points during the scoring burst.
"Dane is just such a load inside," Phillips said. "For four years, he's worked so hard on his game. He's tough for anybody to match up with. When he's in there, he gives us a sense of confidence. He does what he's supposed to do."
Johnson killed the run with a 3-pointer and the Pirates went back in front with a 5-0 run. That put the Chieftains on the wrong side of a 67-64 score. Johnson led all scorers with 26 points, including a 6-of-9 effort from beyond the 3-point arc.
"He probably could have shot it from the bleachers and it would have gone in," Phillips said.
However, despite the Pirate junior's best efforts, the Chieftains wouldn't be denied. Lean knocked down a trey of his own to knot things up with 1:06 remaining.
"That was such a big shot," Jacobs said. "Obviously, everybody was going crazy."
Lean drained a layup to give THS the lead for good with 33 seconds left. Piper stayed within one possession until the Chieftains iced the game with free throws in the final seconds.
THS will return to its own gym Tuesday for a home date with Mill Valley. The Chieftains suffered a 77-65 loss at MVHS on Jan. 6.
Score by quarter
Tonganoxie 19 21 10 22 — 72
Piper 18 15 23 11 — 67
Individual scoring
TONGANOXIE — Dane Erickson 7-10 7-11 21, John Lean 7-11 3-5 21, Dylan Jacobs 4-12 5-6 15, Eric McPherson 2-5 1-1 5, Colby Yates 1-4 2-2 4, Tyler Ford 1-3 1-2 4, Josh Ghale 1-2 0-0 2.
PIPER — Calvin Johnson 10-23 0-0 26, Luke Long 6-12 3-4 17, Zach Smith 3-6 3-5 9, Colton Beebe 3-5 0-1 6, Brett Moore 1-5 2-2 4, Alan Nevils 2-4 0-1 4, Collin Cook 0-1 1-2 1, Darius Drew 0-1 0-0 0.