THS

wrestling earns two wins over ranked opponents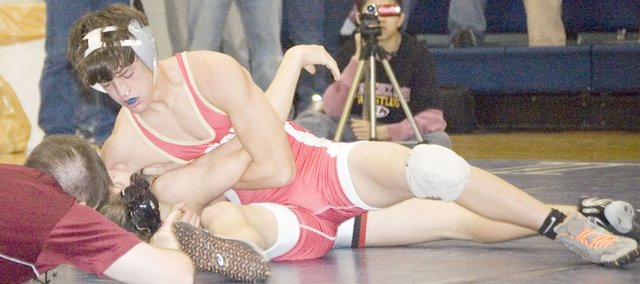 Before the 2011-12 wrestling season ever began, Tonganoxie High has a list of goals in mind. Included on that list was finishing the year undefeated in dual competition.
Thursday's trip to Bonner Springs marked the Chieftains' final two duals of the year. When it was all said and done, they made their goal a reality. Coach Jeremy Goebel's team picked up a pair of wins over top-10 opponents, claiming a 41-30 decision over No. 10 Lansing and cruising to a 63-18 victory over No. 5 Bonner Springs.
The Chieftains will finish the year with a 4-0 dual record. They outscored their opponents by a combined 225-76.
"Our kids' goal was to go undefeated in duals," Goebel said. "We only had four, but they accomplished that. Everyone is trying to get healed before these last couple tournaments, but for our kids, this was great."
Tonganoxie's battle with the Lions was a back-and-forth affair from the beginning. The Chieftains opened competition with back-to-back wins, but Lansing responded with two straight victories of its own. The teams traded wins for the next several matches, but THS won four of the last five to claim the victory.
"We haven't beaten Lansing in a dual setting since I don't know when," Goebel said. "That's great for our kids."
The team's dual with Bonner Springs wasn't nearly as close, as the Braves had for forfeit three of the first four matches. Seven of the nine Chieftains to face live competition won their matches, including six who pinned their opponents. That list included senior Matt Soetaert, who pinned the state's second-ranked 152-pounder in Mark Hobson.
For the third straight week, the THS lineup was affected due to injury. The Chieftains went without a 106-pounder in either dual and made some personnel changes at other spots. Just like in last week's Baldwin Invitational, sophomore Joe Wolf and senior Adam Thomas were held out of competition. Joe Wolf was replaced by senior Anthony Baker in the 132-pound class, while freshman Seth Wolf took over for Thomas in the 145-pound class.
Goebel made one more change to account for the absence of sophomore Zeke Kissinger, who was out with a shoulder injury. Junior Thomas Miller, the Chieftains' regular starter at 195 pounds, moved up to replace Kissinger in the 220-pound class. Junior Will Bond took Miller's 195-pound spot.
"Our lineup is still a little bit crazy right now due to injuries, but those guys stepping in are doing a great job," Goebel said. "As a team, the kids were willing to do whatever it took to go out there and get a 'W'. As coaches, it's great to see that. That team concept is definitely a huge part of everyone's success."
The Chieftains now have their sights set on the Kaw Valley League tournament, which will take place Feb. 11 at Mill Valley. Teams in the tournament field include tournament host MVHS, Basehor-Linwood, Bishop Ward, Bonner Springs, Lansing, Piper and Tuner.
"The kids should feel good about what they've done so far, but not satisfied," Goebel said. "(The KVL tournament) is going to be competitive. It's going to be a great opportunity for our kids to come out and compete. Hopefully that can carry over from what we did yesterday and continue to carry over into the next competition."
Thursday's dual scores
Tonganoxie 41, No. 10 Lansing 30
Tonganoxie 63, No. 5 Bonner Springs 18
THS Individual results
Dual record (Overall record)
113 pounds — Dalton Tavis, 2-0 (26-10)
120 — Clayton Himpel, 2-0 (34-4)
126 — Caleb Himpel, 1-1 (20-11)
132 — Anthony Baker, 1-1 (12-8)
138 — Asher Huseman, 2-0 (30-6)
145 — Seth Wolf, 0-2 (12-8)
152 — Matt Soetaert, 2-0 (28-11)
160 — Luke Carey, 1-1 (16-16)
170 — Ryan Lynch, 1-1 (17-13)
182 — Julius Coats, 2-0 (21-13)
195 — Will Bond, 2-2 (11-6)
220 — Thomas Miller, 2-0 (14-15)
285 — Ty Barton, 2-0 (19-15)