Chieftain girls falter in loss to Mill Valley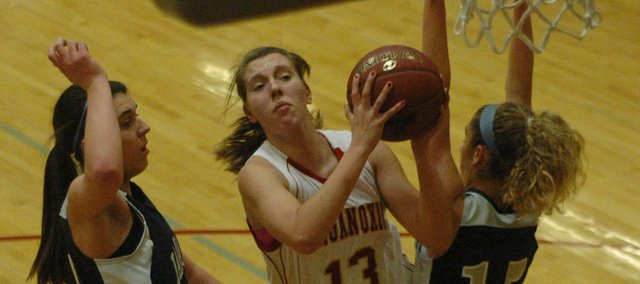 Photo Gallery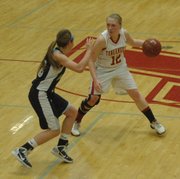 Tonganoxie vs. Mill Valley
The Tonganoxie High basketball teams played host to Mill Valley on Tuesday. The Chieftain girls suffered a 51-28 loss, while the boys dropped a 71-51 decision.
In last Friday's come-from-behind win at Piper, offense was a problem all night for the Tonganoxie girls. Things weren't much better in Tuesday's home game against Mill Valley, but this time, there was a matching defensive effort.
No THS players reached double figures for just the second time this season and the Chieftains (10-5) dropped a 51-28 decision in Kaw Valley League play.
The Jaguars (12-3) started out hot on offense, jumping out to an 8-0 lead midway through the first quarter. The Chieftains responded with a 6-2 burst of their own, but Mill Valley took a 13-6 lead at the end of the period. MVHS junior Tanner Tripp provided a spark early, scoring eight points in the quarter. She finished with a game-high 25, including five 3-pointers.
"(Tripp) shoots the ball well. We knew that coming in," Chieftain coach Randy Kraft said. "We rotated off her and lost track of her. Defensively, we weren't very good tonight."
Tripp and company extended their advantage to 23-9 with 3:48 left until halftime, but Tonganoxie buckled down for the remainder of the second quarter. Kraft's squad closed out the period on a 6-0 run to get back within single digits.
"How we anticipated coming out in the third quarter was the way we left off in the second quarter," Kraft said. "In the last four minutes of the second quarter, we beat them and played well."
However, any thoughts of a comeback were quickly erased when MVHS opened the third quarter on a 10-2 run. That gave the Jaguars a 16-point cushion, and the Chieftains didn't have an answer. The deficit reached as many as 25 in the fourth quarter as MVHS cruised to victory.
Several of the Jaguars' points were products of THS mishaps, as the Chieftains committed 19 total turnovers. The Jaguars, on the other hand, gave the ball away just four times.
"We were very lax with the ball," Kraft said. "We weren't aggressive on offense. That's not who we are, but for whatever reason, we just didn't play well tonight."
Junior Stephanie Lichtenauer joined Tripp in double figures with 14 points, while sophomore Emma Stilgenbauer led the Chieftains with eight. The 28 points tie for THS' lowest scoring effort of the season. The Chieftains managed just 28 in their first meeting with the Jaguars — a 45-28 loss on Dec. 13 in Shawnee.
Both teams will be back in action on Friday. The Jaguars will travel to Bonner Springs, while THS will play host to Bishop Ward at 6 p.m.
"This game, it's done and over," Kraft said. "We didn't play well tonight, but we'll accept it, move on and get ready for the next one."
Score by quarter
Mill Valley 13 10 16 12 — 51
Tonganoxie 6 9 9 4 — 28
Individual scoring
MILL VALLEY — Tanner Tripp 9-19 2-2 25, Stephanie Lichtenauer 6-9 0-2 14, MacKenzie Koch 3-4 0-1 6, Mary Altman 2-2 0-0 4, Carly Eaton 1-1 0-0 2, Brooklyn Sloop 0-2 0-0 0, Mackenzie Conklin 0-2 0-2 0, Olivia Frey 0-3 0-0 0.
TONGANOXIE — Emma Stilgenbauer 2-2 4-4 8, Jenny Whitledge 3-4 0-0 6, Amanda Holroyd 1-8 3-4 6, Madee Walker 1-2 0-0 2, Tavia Brown 1-2 0-0 2, Katelyn Waldeier 1-2 0-1 2, Hannah Kemp 1-5 0-0 2, Haley Smith 0-1 0-0 0, Emily Soetaert 0-3 0-0 0.