Erickson's 25 not enough as Jaguars blow by
THS

boys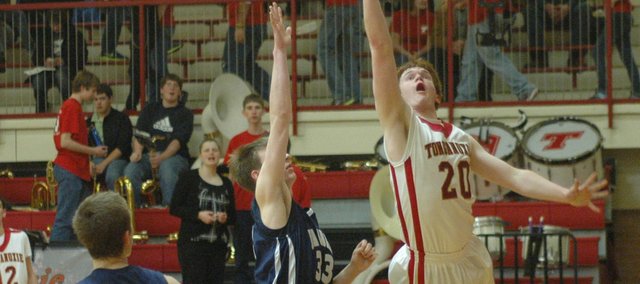 Photo Gallery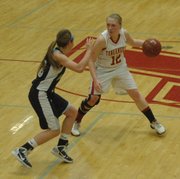 Tonganoxie vs. Mill Valley
The Tonganoxie High basketball teams played host to Mill Valley on Tuesday. The Chieftain girls suffered a 51-28 loss, while the boys dropped a 71-51 decision.
For the better part of 2011-12, the Tonganoxie High boys have struggled to find a third scoring threat. Senior Dane Erickson and junior John Lean have provided a one-two punch all year, but nobody else has emerged as a consistent option.
Tuesday's game against Mill Valley was more of the same, and it proved costly. Erickson and Lean combined for 36 points, but the Chieftains dropped a 71-51 decision at home.
"Usually, when we've played well and won, we've had three or more that have scored the basketball," coach Shawn Phillips said.
THS senior Colby Yates knocked down a trio of 3-pointers and finished with nine points, but aside from their top three scorers, the Chieftains were just 1-of-11 from the floor.
Neither team could gain an advantage early on, as the Jaguars (9-6) led by just three at the end of the opening period. The seesaw battle continued until MVHS started to gain some separation midway through the second quarter. The Chieftains got within one with 5:17 left on the clock, but the Jaguars gradually pulled away and took a 34-27 lead into the locker room.
MVHS junior Nathan Stacy was pivotal to the Jaguars' early success, as he scored 11 points in the first two quarters. He finished with a team-high 22 points on 7-of-12 shooting.
"He's a real tough matchup," Phillips said of Stacy. "The last time we played them, he killed us on the boards, so we put Erickson on him to try to limit his rebounds, but Dane's not used to guarding a guy who can put the ball on the floor."
Erickson, who led all scorers with 25 points, opened the third quarter with a quick layup to trim the gap to five. However, MVHS answered with seven straight points to take control.
"We did a good job of executing what we wanted to run to start the second half, but then we gave up a layup on the other end and turned it over the next couple possessions," Phillips said.
The Chieftains never mounted another serious threat and the Jaguars led by double digits the rest of the way.
Stacy was one of three players to reach double figures for MVHS. He was joined by sophomores Drew Boatwright and Nick Friesner, who scored 14 and 11 points, respectively.
"We lost this one on the defensive end of the floor," Phillips said. "We didn't guard anybody. Any time we give up 71, we shouldn't expect to win on those nights."
Both teams will return to the hardwood on Friday. The Jaguars will pay a visit to Bonner Springs, while the Chieftains will continue their homestand against Bishop Ward.
Score by quarter
Mill Valley 17 17 18 19 — 71
Tonganoxie 14 13 14 10 — 51
Individual scoring
MILL VALLEY — Nathan Stacy 7-12 7-7 22, Drew Boatwright 3-5 9-10 16, Nick Friesner 5-11 0-1 11, Brett Hamilton 4-5 0-0 8, Jake Theis 2-5 2-2 6, Patrick Muldoon 3-3 0-0 6, Kyle Kain 1-4 0-0 2, Staton Rebeck 0-1 0-0 0.
TONGANOXIE — Dane Erickson 9-15 7-8 25, John Lean 4-15 2-2 11, Colby Yates 3-5 0-0 9, Josh Ghale 1-3 3-4 5, Tyler Ford 0-3 1-2 1, Brennan Williams 0-1 0-0 0, Dylan Jacobs 0-4 0-0 0, Ben Williams 0-0 0-2 0.