Pastor loses bet as Tonganoxie, McLouth churches collect 9,000 cans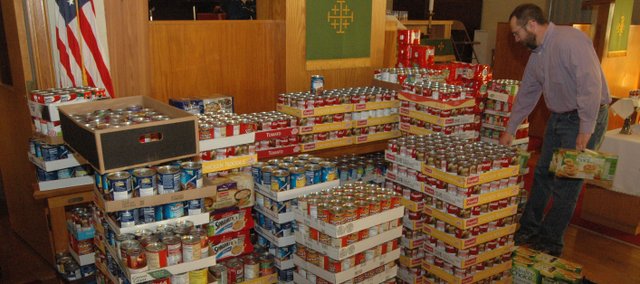 Photo Gallery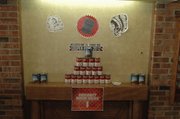 United Methodist Church Souper Bowl drive
The United Methodist Churches in Tonganoxie and McLouth engaged in a friendly competition to see who could collect the most cans of soup. The churches combined to collect more than 9,000 cans, which will go to help those in need in Leavenworth, Jefferson and Shawnee counties.
Instead of a Gatorade shower, Tonganoxie United Methodist Church's "coach" had a lot taken off the top — and sides — at the end of this year's Souper Bowl Challenge.
The Rev. Jeff Clinger told his congregation that if members collected more than 5,000 cans of soup for the soup drive against the McLouth United Methodist Church, he would have his head shaved after Sunday's worship service when the final tallies were announced.
The church accumulated 5,352 cans and the pastor has a vastly different hairdo.
Donna Conrad of H Avenue, who also was Clinger's classmate at Tonganoxie High School, shaved Clinger's head during the event.
McLouth has done the Souper Bowl drive the last several years, but the Rev. Morgan Smith chatted with Clinger before this year's drive with the idea of a friendly competition.
McLouth gathered 3,729 cans, shattering its previous record set last year at 3,329 cans.
Tonganoxie UMC soon will receive a traveling trophy — a gold spray-painted soup can with two spoons — that it will keep until next year's event.
"I was just overwhelmed by the response of the congregation," Clinger said. "When we started talking about it, there was hesitation amongst leadership. If we're going to do this, we have to do this right.
"We can't do this and have a halfway attempt and it and be a flop. Everyone exceeded my expectations."
Tonganoxie will donate its cans to Good Shepherd Thrift Store and Food Bank, as well as Foods for Friends at Tonganoxie Elementary School and the student assistance program at Tonganoxie Middle School. If there is additional soup remaining, cans would be donated to other pantries in the area.
In the past, McLouth has donated to pantries in McLouth and beyond, including Good Shepherd. But now with Tonganoxie UMC having that pantry covered, McLouth will donate to pantries within the community and then donate to points west — Oskaloosa, Meriden and Topeka. In Topeka, the church donates to Amistad y Fe, or Fellowship and Faith Ministry, Inc., a Hispanic food pantry there.
"It's a lot of fun," Smith said about the drive. "We've always tried to keep the focus ultimately on beating hunger in our area.
"Tonganoxie really took up that challenge as well, so it was great to see that, even though we could poke fun at each other. What we did was almost triple our reach on how many people we can feed with those resources."
The churches had pep rallies on Sundays during the few weeks of the soup drive and, as Smith said, there was good-natured ribbing between the two churches.
The two churches sent anonymous notes back and forth. Smith recalled that one note her church received was attached to a can opener. The note read "for opening up your can of defeat."
Smith said McLouth UMC had donations from the community, but didn't make a concerted effort to collect cans outside the church. She said that would also be a focus next year. Tonganoxie, for instance, had a table at B&J Country Mart one Saturday to collect cans. She also hopes to continue to add more churches to the challenge in the future.
"I think it's something everyone can rally around because I think everyone can agree hunger is a bad thing," she said.
As for the minister with the new 'do, Clinger said he made the bet thinking it would be a tall order to reach 5,000 cans in the church's first year.
"It's just my hair," Clinger said. "When I made the promise, when I opened my big mouth, I didn't think it was that likely. McLouth had been doing this for how many years?"
He also admitted he had been contemplating the buzz look anyway — with permission from his better half, who is pregnant.
"I was texting my wife," Clinger said. "Before I make this a serious promise, are we OK with this?"
She approved, though Clinger said he might be wearing a hat in any newborn photos.
"We figured it's just hair," he said. "It will grow back. Or maybe not. I might enjoy it and realize it's low maintenance."