KU

Chancellor speaks to Fort Leavenworth soldiers on civil rights in military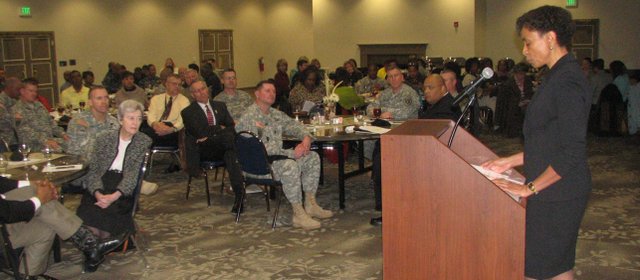 While serving in conflicts abroad, the U.S. military has been on the front lines of a historic battle at home, said Kansas University Chancellor Bernadette Gray-Little: African-Americans' fight for civil rights.
Gray-Little, the first African-American and the first woman to be chancellor at KU, spoke at Fort Leavenworth on Thursday to a crowd of about 200 people, mostly soldiers, at a luncheon commemorating Black History Month.
"The military has often led the way in our nation's history, particularly in the area of civil rights," Gray-Little said in her address.
She noted that segregation in the military ended with an executive order from President Harry Truman in 1948, years or even decades before many other American institutions finally stopped forcing African-Americans to be separate from whites. And military units, she said, offered protection to civil-rights marchers and African-American students entering schools that had been desegregated for the first time.
Military leaders tend to judge service members on merit above all other characteristics, including race, Gray-Little said.
"You serve in one of the most diverse organizations in our society," Gray-Little said, "and you and your leaders are judged by your abilities, work ethic and dedication."
Of course, she noted, the military has not always been free of racial discrimination. The Buffalo Soldiers, who are memorialized with a monument at Fort Leavenworth, and the Tuskegee Airmen fought as part of a segregated military.
But the military was still ahead of the curve on racial equality, she said. And though the most prominent supporter of African-Americans' civil rights, Martin Luther King Jr., espoused a philosphy of nonviolence, the military has fought in support of his ideals of peace and freedom at home and abroad, Gray-Little said.
"The men and women of the United States military remain on the vanguard of our nation's ongoing effort to ensure that equality of opportunity," she said. "You are all part of a proud tradition, a part of American history."
Army Col. Miciotto Johnson, who is African-American, said he attends Fort Leavenworth's Black History Month luncheon each year in order to reflect on his predecessors in the military who helped break down civil-rights barriers.
"It was all about proving that we were good enough to serve shoulder-to-shoulder to our brother Americans," Johnson said.
Johnson said his great-uncle had told him of the segregation he experienced in the Army during the 1940s, and he was grateful for the efforts of black soldiers who showed they deserved to be considered equals. Without their sacrifices, he said, he would not have been able to ascend to an officer's rank.
Also in her address, Gray-Little noted her close military connections: her husband served in the Marines, her brother in the Air Force and her daughter in the Navy. She admitted to the room full of Army officers, though, that she lacked such a close connection to their branch of the service.
"There is still hope, though," Gray-Little said to laughter in the room. "I have a grandson."