Brown records double-double as Chieftain girls down Cyclones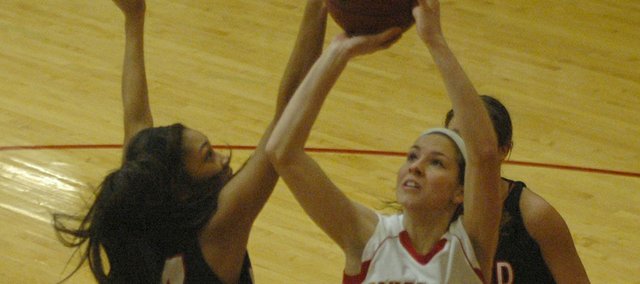 Photo Gallery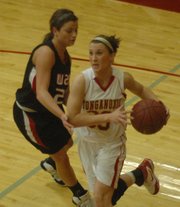 Tonganoxie vs. Bishop Ward
The Chieftain basketball teams welcomed Bishop Ward to town on Friday. The girls picked up a 51-40 win, while the boys pulled away late for a 50-40 victory.
Throughout the 2011-12 season, junior Jenny Whitledge and sophomore Emma Stilgenbauer have been two of Tonganoxie's top scorers and rebounders. Both battled foul trouble in Friday's game against Bishop Ward, but their teammates rose to the occasion.
Senior Tavia Brown recorded team highs with 12 points and 13 rebounds and the Chieftains picked up a 51-40 victory over the Cyclones.
THS (11-5) had a different look from the very beginning, as senior Amanda Holroyd replaced fellow senior Haley Smith in the starting lineup. Coach Randy Kraft made the switch in an attempt to keep BWHS (5-10) from jumping out to a big lead.
The plan worked, as the Cyclones never lead by more than one possession in the first quarter.
"We tried to mix it up a little bit because we've been letting teams jump out on us early," Kraft said. "Amanda did a good job starting and Haley played really well coming off the bench, so that worked out well for us."
Kraft's group didn't allow the Cyclones to take control, but struggled to get the ball through the rim in the opening period. The Chieftains first field goal didn't come until a runner by Holroyd more than six minutes in. As a team, they shot just 1-of-12 in the quarter.
Shots started to fall in the second, though, and THS went on a 7-0 run to take its first lead of the game at 11-10. It stayed in front for the remainder of the half and took a 22-20 lead into the locker room.
"We started attacking more and our shots started falling in the second quarter," Kraft said.
The Chieftains spent most of the first half without Whitledge and Stilgenbauer, who picked up two fouls apiece in the first quarter. They were replaced by sophomore reserves Emily Soetaert and Katelyn Waldeier, who each hit big shots in the team's second-quarter run.
Any thoughts of a BWHS comeback were discarded after the break, as THS outscored the Cyclones by a 21-8 margin in the third quarter. Whitledge opened the period with back-to-back layups and the Chieftains never looked back.
"The intensity went up and everybody started playing together," Brown said. "It doesn't necessarily bring the tempo down, but it's certainly not the same without (Whitledge) on the floor."
Brown got in on the scoring as well, scoring six points in the quarter. She was the only Chieftain to reach double figures.
"With Jenny's ability to attack the basket, when she's out there and she's active, it gives Tavia a lot more one-on-one opportunities," Kraft said. "It opens her up a lot more."
The Cyclones used a late scoring run to get within single digits midway through the fourth quarter, but the final outcome was never in question.
The win caps off a season sweep of the BWHS. The Chieftains took a 50-46 decision in the teams' first meeting on Dec. 13. They'll return to the hardwood on Feb. 14 when they travel to Lansing for a 6 p.m. tipoff.
Score by quarters
Bishop Ward 6 14 8 12 — 40
Tonganoxie 4 18 21 8 — 51
Individual scoring
BISHOP WARD — Hanna Barnhart 5-13 2-4 12, Taylor Williams 4-11 2-4 10, Frankie Oropeza 1-5 4-4 6, Samantha Morrissey 2-4 0-0 6, Caitlin Reed 2-12 1-3 5, Andrea Oropeza 0-0 1-4 1, Analiz Munoz 0-1 0-0 0, Kendall Nick 0-2 0-0 0.
TONGANOXIE — Tavia Brown 5-9 2-3 12, Jenny Whitledge 4-8 1-2 9, Hannah Kemp 1-4 6-6 9, Amanda Holroyd 2-7 1-2 6, Emma Stilgenbauer 2-5 0-2 4, Madee Walker 2-8 0-0 4, Emily Soetaert 1-3 0-0 3, Katelyn Waldeier 1-3 0-0 2, Haley Smith 0-4 2-4 2.