Late surge propels
THS

boys past Bishop Ward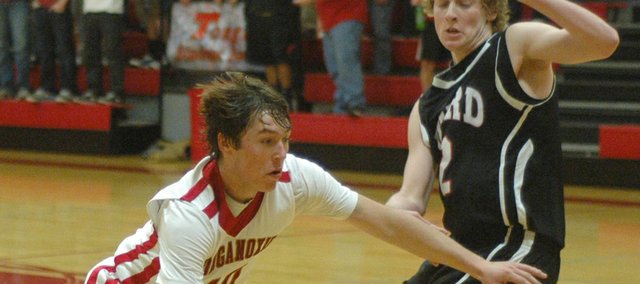 Photo Gallery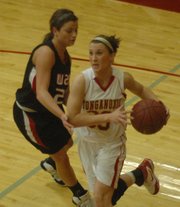 Tonganoxie vs. Bishop Ward
The Chieftain basketball teams welcomed Bishop Ward to town on Friday. The girls picked up a 51-40 win, while the boys pulled away late for a 50-40 victory.
Early on, it looked like Tonganoxie might run away with this one. After halftime, it seemed as though Bishop Ward would leave with an upset victory.
When it was all said and done, though, it was the Chieftains who had enough in the tank to get the win.
Seniors Dane Erickson and Colby Yates scored 15 and 14 points, respectively, and a dominant fourth-quarter performance propelled THS to a 50-40 win over the Cyclones on Friday.
The Chieftains (8-8) held a 20-18 lead at halftime, but BWHS (3-13) came out firing after the break. The Cyclones opened the third quarter on a 12-4 run to take their biggest lead of the game at 30-24.
"In the third quarter, we were very stagnant," coach Shawn Phillips said. "We stood around and watched. When you stand around and watch, you're very easy to guard."
However, things started to take a turn for the better near the end of the quarter. Phillips' squad began to chip away at the lead and trimmed the deficit to one by the start of the fourth.
Neither team could gain an advantage early in the final period, as there were four lead changes in the first four minutes, but the Chieftains started to pull away down the stretch. Senior Colby Yates buried a 3-pointer to give his team a two-possession lead with 3:11 remaining, and THS never looked back. It ended the game on a 11-0 run and held the Cyclones scoreless for the final 4:51.
"It was a great team effort there in the last quarter," Erickson said. "We were able to get some stops on defense, which we had been struggling to do throughout the game."
Erickson, who also pulled down a team-high 14 rebounds, opened the game with a layup and the Chieftains jumped out to a 9-5 lead at the end of the first quarter. They extended their advantage to 19-9 midway through the second, but BWHS closed the half on a 9-1 run to get within two points.
Cyclone senior CJ Vallejo, who led all scorers with 22 points, knocked down four consecutive shots during that span.
"They went on a run because we quit guarding," Phillips said. "We let Vallejo get hot from the field. He made some tough shots. He's a good player."
With the win, THS improves to 4-6 in Kaw Valley League play. It was the Chieftains' second victory in as many tries against the Cyclones. The teams squared off Dec. 13 at Kansas City Kansas Community College, and the Chieftains left with a 49-37 win.
THS will now hit the road for back-to-back away games against Lansing and Bonner Springs. The road trip will begin Feb. 14 against the Lions, who are undefeated against KVL opponents.
"(Friday's win) is definitely good for momentum going into our hard week next week against Bonner and Lansing," Erickson said.
Score by quarters
Bishop Ward 5 13 16 6 — 40
Tonganoxie 9 11 11 19 — 50
Individual scoring
BISHOP WARD — CJ Vallejo 8-15 5-6 22, Evan Brull 3-8 0-0 7, Connor Burns 2-12 0-0 4, Manny Talavera 1-5 1-5 3, Jon Roblez 1-3 0-0 2, Xavier Tucker 0-2 2-2 2, Michael Golubski 0-2 0-0 0.
TONGANOXIE — Dane Erickson 4-5 7-10 15, Colby Yates 3-5 6-6 14, Josh Ghale 3-5 2-2 8, Eric McPherson 3-3 0-0 6, Tyler Ford 2-4 0-0 5, John Lean 0-9 2-4 2, Dylan Jacobs 0-3 0-0 0.