Chieftain wrestlers win
KVL

tournament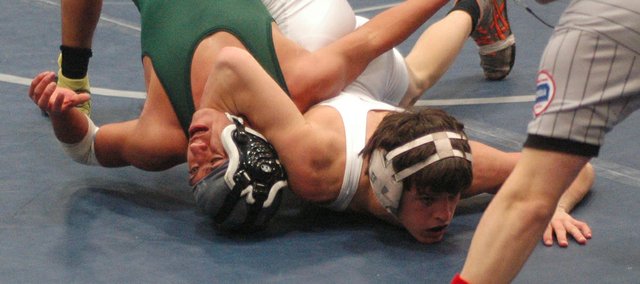 Photo Gallery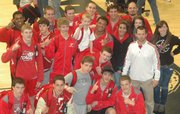 Tonganoxie wrestling at KVL tournament
The Tonganoxie High wrestling team won the Kaw Valley League tournament Saturday at Mill Valley. The Chieftains combined for 193 points.
Shawnee — Nobody could immediately remember when Tonganoxie last won a league wrestling title, but perhaps a fan summed it up best as she exited the Mill Valley gymnasium:
"It's been way too long. We know that."
However, at approximately 5 p.m. Saturday, the wait came to an end.
The Chieftains had 12 wrestlers reach the final round and claimed the overall team title with 193 points at the 2012 Kaw Valley League tournament.
"It's a total team effort," coach Jeremy Goebel said. "Each one of them feed off one another. It's like a domino effect. They set the standard the minute they walk out there. That's something that starts in the practice room."
As it turns out, more than two decades have passed since THS could call itself a league champion. The last Chieftain squad to accomplish that feat did so during the 1990-91 season.
Seven THS wrestlers earned a spot in their respective championship rounds, while five reached the consolation round. Four left with individual titles, while 10 placed in the top three.
Sophomore Clayton Himpel (120 pounds), ranked No. 3 in the state, claimed the Chieftains' first gold medal when he pinned Basehor-Linwood's Antonio Ferro. Senior Matt Soetaert (152) followed suit with an 11-9 victory over the state's fourth-ranked wrestler in Bonner Springs' Mark Hobson. It was Soetaert's second victory against Hobson in as many weeks.
"(Hobson) is a tough match, but like Coach Goebel tells us, it's six minutes," Soetaert said. "You're never out of the match."
Junior Julius Coats (182) earned a 5-1 win over Lansing's Hector Porter and junior Thomas Miller (220) claimed a 8-0 decision over Bishop Ward's Emilio Calderon to round out the Chieftains' top finishers.
Sophomore Joe Wolf (132) reached the finals, but he forfeited due to injury default as a precautionary measure. Wolf, ranked No. 5 in the state, suffered a knee injury at the Basehor-Linwood Bobcat Classic on Jan. 14.
Others to finish in the top three included freshman Dalton Tavis (113), freshman Asher Huseman (138), sophomore Luke Carey (160), junior Will Bond (195) and junior Ty Barton (285).
Soetaert praised the Chieftain coaching staff and attributed much of the team's success to the extra effort put forth in the practice room every week.
"The coaches know how to push us in practice and make us work hard," he said. (The league title) shows how hard we've been working and how much a lot of guys have stepped up."
THS now has its sights set on the Class 4A regional tournament, which will begin Friday at Spring Hill. Teams in the tournament field include host team Spring Hill, No. 5 Bonner Springs, No. 6 St. James Academy, No. 7 Baldwin, Atchison, Basehor-Linwood, De Soto, Eudora, Hiawatha, Bishop Ward, Piper, Sumner Academy, Jeff West and Perry-Lecompton.
The top four finishers in each weight class will qualify for the Class 4A state championships, which will take place Feb. 24-25 in Salina.
"Right now, the biggest thing is keeping fresh," Goebel said. "In theory, we have four days of practice this week, then we hit Spring Hill on Friday. This is what we've trained for all year. (The regional tournament) is a great place to solidify a team to get to Salina."
Overall team results
Tonganoxie — 193

Mill Valley — 148

Bonner Springs — 146.5

Lansing — 121

Turner — 72.5

Piper — 63

Basehor-Linwood — 54.5

Bishop Ward — 23
THS individual results
Tourney, Overall (Tourney finish)
113 pounds — Dalton Tavis 2-1, 28-11 (Second)
120 — Clayton Himpel, 3-0, 37-4 (First)
126 — Caleb Himpel, 2-2, 22-13 (Fourth)
132 — Joe Wolf, 2-1, 23-6 (Second)
138 — Asher Huseman, 2-1, 32-7 (Second)
145 — Adam Thomas, 0-1, 16-5 (N/A)
152 — Matt Soetaert, 3-0, 31-11 (First)
160 — Luke Carey, 3-1, 19-17 (Third)
170 — Ryan Lynch, 1-2, 18-15 (Fourth)
182 — Julius Coats, 2-0, 23-13 (First)
195 — Will Bond, 3-1, 16-7 (Third)
220 — Thomas Miller, 2-0, 16-15 (First)
285 — Ty Barton, 1-1, 20-16 (Third)