New Basehor-Linwood school board member lauds district's teachers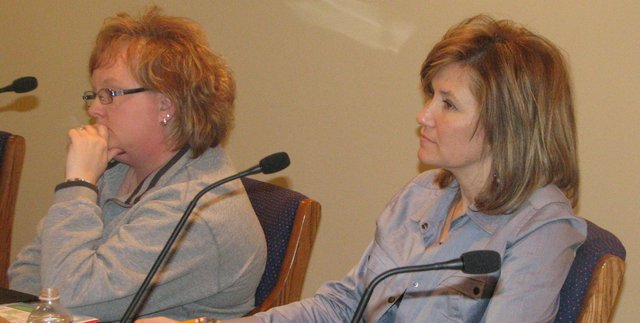 Related document
Come May, Shelley Stevens will have no children sitting in Basehor-Linwood classrooms for the first time in more than a decade. But that doesn't mean she'll stop giving her time to those schools.
In fact, Stevens is now serving the district in a new role, as a school board member. The board appointed Stevens to its vacant seat, 6-0, at Monday night's meeting.
Stevens, who lives outside of Basehor, has had two sons attend Basehor-Linwood schools from kindergarten all the way up. One graduated in 2009, and the other is set to graduate in May. Stevens works as an office manager for the Basehor company Elite Electric, which is owned by her husband, Shawn Stevens. She has served several years on the board for the Basehor-Linwood High School Booster Club, she said Monday.
Before the board's vote, Stevens answered questions from members, as did Bill Hooker, a former school board member and former Basehor mayor who also applied for the vacant seat.
Stevens told board members she believed the Basehor-Linwood district's greatest advantage is the strength of its teachers, and she wanted to protect that strength. She compared the district's teachers to the ingredients in a great chili recipe — an analogy she said she borrowed from one of those teachers, Ross Schwisow of BLHS.
"I think it's the people that are under the structure that make us unique and strong," Stevens said.
After the meeting, Stevens said she wanted to make sure those teachers made Basehor-Linwood their permanent home, rather than using it as a training ground for another district. That would be especially important, she said, as development to Basehor's east brings new families to the area and those families compare school districts when deciding where to live.
One practice she suggested Basehor-Linwood might adopt is the increased use of laptop computers in the high school's curriculum.
"I think that could be the kind of bridges from where they're going, from high school on to their junior college or college," Stevens said.
Hooker also praised the district and said it stacked up well compared with surrounding districts. He said the schools would need to make it a priority to prepare for imminent population growth.
The board voted to appoint Stevens after a motion from member Gary Johnson. Before the vote, member Jeané Redmond said the board had a tough choice between the two candidates.
"I think you both would be great for the school board," Redmond said. "I wish that we had two positions that were open."
The board's vacancy was created when former member Wynne Coleman resigned in November because of a job-related move to New Mexico. The seat represents all of the district north of Parallel Road, and its term expires in just more than a year, in April 2013.
To learn more about Shelley Stevens, download a questionnaire she filled out for the school board before her appointment Monday. The document is available at left.