Chieftain boys thumped by No. 2 Lions on road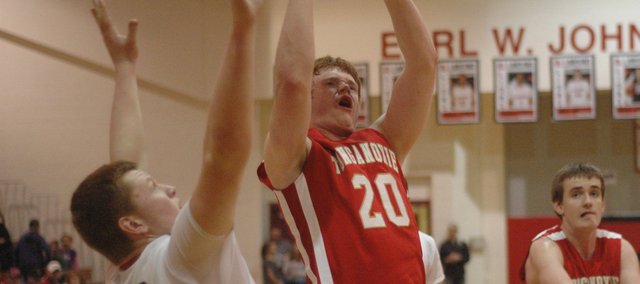 Photo Gallery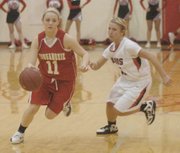 Tonganoxie at Lansing
The Chieftain basketball teams traveled Thursday to Lansing. The girls picked up a 65-39 win, while the boys suffered a 61-43 loss.
Lansing — When the Tonganoxie boys entered Earl W. Johnsmeyer Gymnasium on Tuesday, they did so with thoughts of spoiling Lansing's senior night. However, the Chieftains' Class 5A opponent had other plans.
Senior Dane Erickson scored 10 points and pulled down 10 rebounds, but THS (8-9) couldn't match second-ranked Lions' firepower in a 61-43 loss.
The Chieftains kept things close early on and trailed by just a point midway through the opening period, but Lansing (16-1) responded with an 8-0 run and took a 16-11 lead into the second quarter. Coach Shawn Phillips' squad stayed within five until LHS reeled off seven straight points, capped off by a one-handed slam by Izaiah Grice with 3:34 left until halftime.
The Lions led by double digits the rest of the way. They took advantage of 18 first-half turnovers by the Chieftains and cruised to a 35-20 advantage at the break.
THS struggled on the offensive side of the floor all night, as it shot just 16-of-40 from the floor and gave the ball away 27 times.
"Any time you can't get the ball down the floor, you're going to be in bad shape," Phillips said. "Limiting our offensive possessions against a good team is obviously not a good formula for success."
The teams traded punches early in the third quarter, but once again, Lansing pulled away late in the period. The Lions entered the fourth with a 52-27 advantage and led by at least 20 points until a Chieftain run in the final minutes.
Erickson, who had nine points and eight rebounds in the first half, was limited to just one point and two boards in the final two stanzas. Lansing used the trio of Eddie Hunt, Clay Young and Mike Miller to keep the Chieftain forward from establishing any rhythm after the break.
"They've got a three-headed monster in the post that they can run at (Erickson)," Phillips said. "They've got the most post depth of about anybody in the league. They don't have to worry about fouls in the paint, so they can be physical."
Junior John Lean joined Erickson in double figures with a team-high 12 points. Grice led all scorers with 19.
The Chieftains will continue their road trip Friday when they pay a visit to Bonner Springs. The Braves (13-4) cruised to a 59-28 win over THS on Jan. 3.
"We told (our players) we're going to see the exact same thing on Friday," Phillips said. "Our guards have got to be stronger with the basketball and we've got to initiate offense closer to the rim. If we put forth the same effort that we did tonight, it will be a long night on Friday, too."
Friday's action will begin immediately following the girls game, which is slated for 6 p.m.
Score by quarters
Tonganoxie 11 9 7 16 — 43
Lansing 16 19 17 9 — 61
Individual scoring
TONGANOXIE — John Lean 4-13 3-4 12, Dane Erickson 3-6 4-8 10, Eric McPherson 3-4 0-0 6, Brady Waldeier 2-2 0-0 4, Dylan Jacobs 1-5 2-2 4, Colby Yates 1-4 1-2 3, Josh Ghale 1-2 0-0 2, Tyler Ford 1-4 0-0 2.
LANSING — Izaiah Grice 7-16 3-4 19, Joe Schneider 2-5 4-4 8, Clay Young 2-4 3-6 8, Eddie Hunt 2-5 2-2 6, Khalil Bailey 1-4 2-4 4, Mike Miller 2-3 0-0 4, Devarion Sieg 1-1 0-0 2, Joe Henry 1-2 0-0 2, Donte Gibson 1-1 0-1 2, Cameron Decker 1-5 0-0 2, Chris Jones 1-4 0-2 2, Lucas Mein 0-4 2-2 2.