Whitledge, Stilgenbauer power
THS

girls past Lansing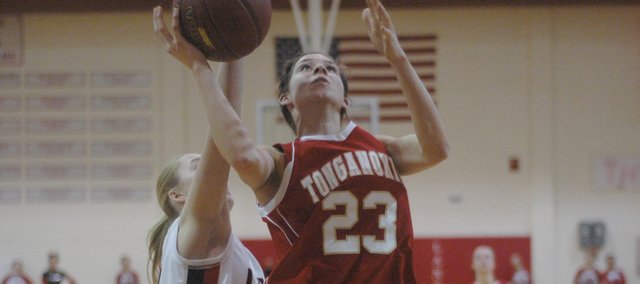 Photo Gallery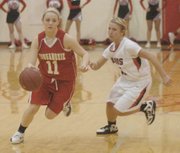 Tonganoxie at Lansing
The Chieftain basketball teams traveled Thursday to Lansing. The girls picked up a 65-39 win, while the boys suffered a 61-43 loss.
Lansing — Prior to last week's home loss to Mill Valley, the Tonganoxie High girls were on auto-pilot. At least that's how junior Jenny Whitledge felt.
Since the loss to the Jaguars, though, the Chieftains have reeled off two straight wins. In Tuesday's 65-39 victory at Lansing, they kept their foot firmly on the gas pedal.
"I think, after Mill Valley, we kind of got a little slap in the face," Whitledge said. "We needed to step it up. Tonight, we felt like it was time to turn it on and kick it in gear."
It looked as though THS (12-5) was in neutral early on, as it trailed the Lions 7-2 midway through the first quarter. But Whitledge provided the spark her team needed, sinking three straight shots and igniting a 15-2 run that ultimately put the Chieftains up for good.
Whitledge finished the night with 17 points and 10 rebounds for a double-double.
After its offensive surge, THS relied on its defense to pull away in the second. Coach Randy Kraft's team didn't allow Lansing (13-4) to score for the first four minutes of the period and extended its advantage to 25-14. That margin grew to 37-22 by halftime, thanks in large part to nine Lion turnovers.
When it was all said and done, the Chieftain defense forced Lansing into 23 giveaways.
"I would say probably 80 percent of the time, we played really well defensively," Kraft said. "We've still got some things we need to clean up, but that usually comes with communication."
Whitledge and sophomore Emma Stilgenbauer each netted 10 points in the first half. Stilgenbauer, who finished with 15 points, got several looks inside, while Whitledge made the Lions pay with a barrage of mid-range jumpers.
Things remained lopsided after the break, as the THS lead grew to 51-30 by the end of the third quarter. Lansing never posed a threat down the stretch, as the Chieftains led by at least 20 points for the duration of the final period.
Whitledge and Stilgenbauer were the only two Chieftains to reach double figures, but seniors Amanda Holroyd and Tavia Brown added nine points apiece.
"Honestly, I think having a well-rounded team is very good for us," Whitledge said. "If someone is down or in foul trouble, we know we can rely on someone else. It's not just one person that we rely on."
Next up for THS is Friday's trip Bonner Springs (16-1). The No. 4 Braves, who handed the Chieftains a 48-32 loss on Jan. 3, have lost just one Kaw Valley League game this season.
"The kids are thinking about Bonner," Kraft said. "They want to go get ready for it, and hopefully this (win) gives them that confidence."
Tipoff is set for 6 p.m.
Score by quarters
Tonganoxie 17 20 14 14 — 65
Lansing 14 8 8 9 — 39
Individual scoring
TONGANOXIE — Jenny Whitledge 7-12 3-4 17, Emma Stilgenbauer 7-11 1-1 15, Amanda Holroyd 3-7 1-1 9, Tavia Brown 4-5 1-3 9, Emily Soetaert 2-4 0-0 5, Katelyn Waldeier 2-3 0-0 4, Hannah Kemp 2-6 0-0 4, Madee Walker 1-6 0-0 2.
LANSING — Gabby Hacker 5-12 5-6 15, Morgan Bromell 6-12 0-0 13, Emma Zeck 3-5 1-2 7, Danielle Pendergraft 1-2 0-0 2, Micheala Taylor 0-6 2-4 2, Jordan Maestas 0-1 0-0 0, Emily Babcock 0-1 0-0 0, Mikayla Zielinski 0-2 0-0 0, Shelby Ogden 0-3 0-0 0.