THS

senior Gergick signs with St. Mary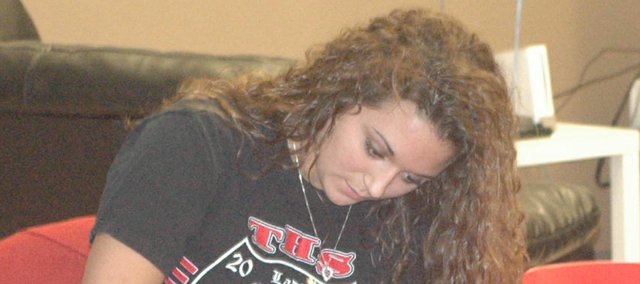 Since she was seven years old, Tonganoxie High's Shyanne Gergick has been no stranger to the soccer fields in Leavenworth. That's where the Chieftain senior first played competitive soccer and where she remained for the next decade.
As it turns out, it's also where she'll spend her time as a college athlete.
Gergick has signed a national letter of intent to continue her career at the University of St. Mary. She did so Tuesday in front of friends, family, coaches and teammates in the THS Chieftain Room.
"I'm going to be honest; it's amazing to get it done and know what I'm doing," Gergick said. "Now I can focus on the season. I feel like I just kind of signed my life away, but I'm OK with that."
A three-year starter for the Chieftains, Gergick has seen playing time at numerous positions during her time in a red and white uniform. She began her THS career as a midfielder, but moved to the defensive end of the field as an upperclassman.
However, according to coach Justin Seever, her eye for the ball will likely lead to another change this spring.
"We're probably going to move her into a midfield spot to try to utilize her skill more," Seever said. "She tends to be a center-minded player, so we're going to try to keep her in the middle. We have big expectations for her this year."
Following her junior season, Gergick was named an All-Area honorable mention by the Lawrence Journal-World.
Gergick first stepped onto the pitch at age four when she played in a recreational league. Three years later, she made the switch to competitive soccer and remained in the Leavenworth club system until 2011. She spent last season with a club team in Olathe.
She had other collegiate options, including schools in Missouri and North Carolina, but admitted she's grateful for the opportunity to stay close to home.
"I know people there and I can come home whenever I want," she said. "It's great because if I went somewhere far away, (my family) couldn't come to my games. My parents have been there through everything, so it's nice that they get to come and support me."
In addition to the school's proximity to her hometown, Gergick found her familiarity with coaching staff appealing. Seever, who enters his sixth year in the Chieftain program, just finished his fourth as USM's top assistant.
"This is obviously a good signing," Seever said. "We want to keep the local talent local, and this definitely does it."
Gergick's position with the Spires is currently undetermined. She joins a team that went 6-10-2 a year ago and made its first appearance in the Kansas Collegiate Athletic Conference postseason tournament since 2007.
The Chieftains will open their 2012 campaign March 26 at Bonner Springs. With her future plans now set in stone, Gergick has her sights set on a deep run in the postseason.
"My goal for this season is to go 11-4 and hopefully move further up in regionals," she said. "I'd like to at least go to the third round. That's a tough goal, but state is always in mind. We'll see when we get there."