No. 10 Chieftains eye first-ever regional championship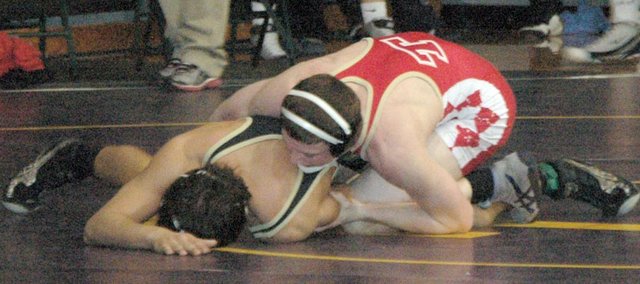 When the Tonganoxie High wrestling team first stepped onto the mat in early December, it did so with a clear list of goals. Near the top of that list was winning the first Class 4A regional championship in school history.
Two months later, the Chieftains have put themselves in a position to accomplish that feat.
Four wrestlers enter Friday's Spring Hill regional as the top seed in their respective weight classes, and six will receive a first-round bye.
"The mindset is just we're ready to get out and wrestle," coach Jeremy Goebel said. "We've been waiting all year for this moment, and it's finally upon us. Everything done (in practice) up to this point is a stepping stone to what we've got to do this weekend. We've just got to get out there and compete like we have all year, and everything will fall in place."
Sophomore Clayton Himpel (37-4) is the top-seeded wrestler in the 120-pound weight class. The 2011 state qualifier, currently ranked No. 3 in the state, has won his last 14 matches. Other Chieftains to earn No. 1 spots include freshman Asher Huseman (32-7, 138 pounds), sophomore Joe Wolf (23-6, 132 pounds) and senior Matt Soetaert (31-11, 152 pounds). Soetaert made his season debut in the state rankings this week, checking in at No. 5.
Despite seeing limited time in recent weeks due to a knee injury, Wolf enters the meet ranked No. 5 as well. Senior Adam Thomas and sophomore Zeke Kissinger have also missed time with injuries, but all regular starters have been re-inserted into the lineup.
"We're good to go. We've got everyone clicking," Goebel said. "We're going into the tournament with what we started with, so that's a good thing. In terms of getting full bodies back, we're there. Now we've just got to go out and wrestle."
THS cracked the KWCA team poll this week, coming in at No. 10. The 15-team field features a trio of other top-10 squads, including No. 5 Bonner Springs, No. 6 St. James Academy and No. 7 Baldwin.
Other participants will include host school Spring Hill, Atchison, Basehor-Linwood, De Soto, Eudora, Hiawatha, Bishop Ward, Piper, Sumner Academy, Jeff West and Perry-Lecompton.
"We try to tell our kids to make sure they just go out and wrestle the same wherever we're at," Goebel said. "It's going to be a great field and a great opportunity for our kids to do something that's never been done."
Friday's action will begin at 2 p.m. in the SHHS gymnasium. Competition will resume Saturday at 11 a.m.
THS Regional Lineup
Name, seed, first-round opponent
113 — Dalton Tavis, No. 5, Ben Huntington (Baldwin)
120 — Clayton Himpel, No. 1, Bye
126 — Caleb Himpel, No. 3, Tanner Mendel (Eudora)
132 — Joe Wolf, No. 1, Christian Zwahlen (De Soto)
138 — Asher Huseman, No. 1, Ross Chumbley (Eudora)
145 — Adam Thomas, No. 3, Bye
152 — Matt Soetaert, No. 1, Bye
160 — Luke Carey, No. 4, Bye
170 — Ryan Lynch, No. 7, Kolby Meyer (Hiawatha)
182 — Julius Coats, No. 5, Bye
195 — Thomas Miller, No. 3, Peter Coelho (St. James Academy)
220 — Zeke Kissinger, No. 3, Shane Schramm (De Soto)
285 — Ty Barton, No. 5, Bye