Live Friday: Bonner Springs girls, boys basketball hosts Tonganoxie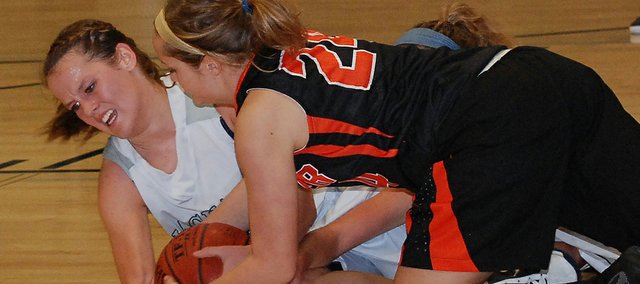 The resurgent Bonner Springs girls and boys basketball teams will host Tonganoxie's varsity squads in another big Kaw Valley League showdown Friday, beginning with the girls tipping off at 6 p.m.
Since a narrow loss at home to Mill Valley ended the girls' perfect season on Feb. 10, Bonner Springs quickly regained momentum for the stretch run, earning a 61-24 victory against Turner on Tuesday. Three Braves scored north of 15 points in the game.
Meanwhile, the boys are coming off a lights-out performance by Jordan Jefferson, who hit seven 3-point shots on Tuesday to lead the Braves past Turner.
The 8-9 Chieftains boys team will be hungry for a statement win after Tuesdays' loss to league-leading Lansing. Senior Dane Erickson scored 10 points and pulled down 10 rebounds, but THS couldn't match the state's second-ranked 5A team, losing 61-43.
At 7-4 in the KVL (12-5 overall) the Tonganoxie girls might be out of contention for a first-place finish in the league, but that doesn't mean they won't be playing in the biggest game of the regular season. A victory against the Braves would allow the girls to play the role of spoilers and add to the momentum they'll carry into the season's final two games. On Tuesday, the Chieftains cruised to a 65-39 victory against Lansing. Junior Jenny Whitledge led the team with a double-double, scoring 17 and adding 10 rebounds in the team's second-straight victory. Sophomore Emma Stilgenbauer also scored 15 points.
Join us on bonnersprings.com and tonganoxiemirror.com for a live broadcast of the game. Also tweet at @bonnersprings and @tonganoxie and use #bonnersports and #mirrorsports to join the conversation.