McLouth boys win
OT

thriller at Immaculata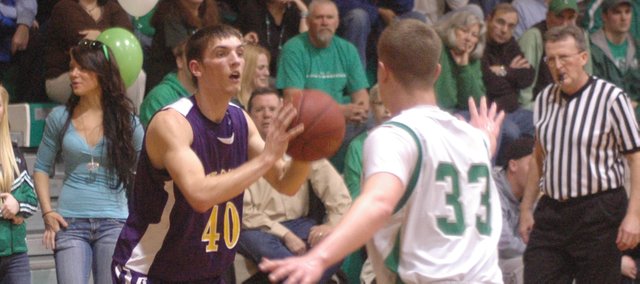 Leavenworth — All but two of Gavin Swearngin's points came after halftime, but arguably none were bigger than the two he scored after regulation.
Swearngin scored 12 points, including a pair of go-ahead free throws with 2:54 remaining, and the McLouth boys snapped a four-game losing streak with a 53-51 overtime victory Friday at Immaculata.
"It's nice. Three of the four (losses) were on the road, but that's no excuse," coach Jason Schroeder said. "We knew we should have gotten some of those wins, but we came (Friday) and finally put it back together."
The Bulldogs (10-8) battled the Raiders to a 49-49 stalemate in regulation, setting the stage for a high-octane extra period. The teams traded punches in overtime and remained deadlocked until Swearngin drew a foul with 2:54 remaining He sunk both shots from the free throw line, ultimately putting MHS in front for good.
Junior Carter Gish, who scored a team-high 13 points, gave the Bulldogs a two-possession lead when he drained a layup with 1:28 left. IHS got back within two on the next possession and had a chance to win on the final shot, but Corey Leintz's desperation 3-point attempt clanked off the rim as the final buzzer sounded.
Leintz led all scorers with 18 points, while Adam Sewell added 17. Sewell, who scored six points in the fourth quarter alone, fouled out with 3:28 left in overtime.
"That hurt them big time," Schroeder said. "They were running plays for him almost every single possession."
MHS led 22-20 at halftime and seemingly took control when it opened the third quarter on a 7-2 run. But that prompted an IHS timeout, which the Raiders followed with an 8-0 scoring burst to briefly take the lead.
However, the Bulldogs regained their composure and didn't allow IHS to extend its advantage any further.
"Our team has mental toughness," Swearngin said. "It could have gotten really bad really quick, but we kept it together."
Swearngin and company battled back and took a 38-37 lead into the fourth quarter. Neither team led by more than two points in the period.
The game was a back-and-forth affair from the start, as MHS clung to a 13-12 lead after the opening period. It looked as though the Raiders would take a 20-18 lead into the locker room at halftime, but freshman Jack Courtney drained a layup and drew a foul with 1.1 seconds left in the second quarter. Courtney missed the ensuing free throw, but junior Dakota Cop grabbed the loose ball and hit a reverse layup as time expired.
Gish was the team's most consistent threat in the early going, as he scored 10 points before intermission.
MHS will return to hardwood Tuesday when it hosts Maur Hill Academy. The game will begin immediately following the girls game, which is set for 5 p.m.
Score by quarter
McLouth 13 9 16 11 4 — 53
Immaculata 12 8 17 12 2 — 51
Individual scoring
MCLOUTH — Carter Gish 6-10 1-2 13, Gavin Swearngin 5-12 2-2 12, Dakota Cop 4-7 0-0 8, Drew Cerny 3-5 0-2 8, Jack Courtney 2-4 2-3 6, Nick McAferty 1-2 1-2 4, Shawn Dailey 1-3 0-0 2.
IMMACULATA — Corey Leintz 8-18 0-1 18, Adam Sewell 7-17 2-3 17, Sean Murray 2-3 0-0 5, Connor Schmidling 2-4 0-0 4, Josh Boeppler 2-6 0-0 4, Dan Boisson 1-5 0-0 3, Eric Haynes 0-1 0-0 0, Jarret McCall 0-1 0-1 0.