McLouth girls come up short at Immaculata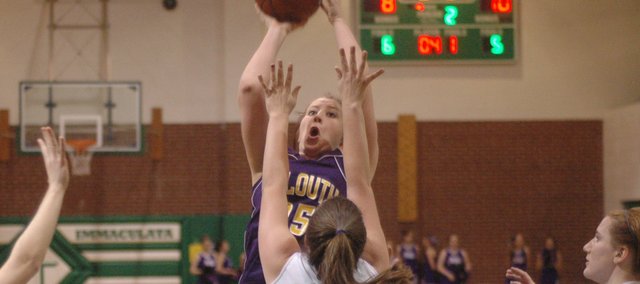 Leavenworth — McLouth girls coach Gina Durkes saw several flashes of potential from her Bulldog squad. Unfortunately, though, the flicker was gone by halftime.
MHS couldn't overcome two big second half runs by Immaculata and dropped a 45-33 decision to the Raiders on Friday.
"I could blame it on us always playing slow in the second half," Durkes said. "We always come out lackadaisical in the third and fourth quarters."
The Bulldogs (3-15) entered the second half with the score deadlocked at 16 apiece, but the Raiders quickly took control after intermission. IHS opened the third quarter on a 12-2 run to take a 28-18 advantage, and the damage was done.
MHS got back within seven by the end of the period and trimmed the gap to five midway through the fourth, but an 11-2 Raider scoring burst extinguished the comeback attempt in the game's final minutes.
Defense was the theme of the first half, as the teams combined for just 32 points before the break. The Bulldogs held IHS off the scoreboard for the first 4:02 and led 10-6 after one quarter. The Raiders were able to even the score by halftime, but the MHS defense never allowed its opponent to get into an offensive rhythm before the break.
"That was the basketball team I know we can be," Durkes said of the Bulldogs' first-half performance. "If we come out and play the next two games like we played that first half, we should have a positive end to the season."
Junior Kaitlyn Hullinger led MHS with nine points, while senior Morgan Drinnon added eight. Liz Todd and Brittany Simek paced the Raiders with 17 and 14 points, respectively.
The loss is the sixth straight for Durkes' squad. It will try to snap that streak Tuesday when it plays host to Maur Hill Academy. Tipoff is set for 5 p.m.
Score by quarters
McLouth 10 6 7 10 — 33
Immaculata 6 10 14 15 — 45
Individual scoring
MCLOUTH — Kaitlyn Hullinger 4-7 1-4 9, Morgan Drinnon 2-9 4-4 8, Kayla Steffey 3-5 0-0 6, Terri Stewart 1-8 3-6 6, Konner Patterson 2-6 0-0 4, Kami WIsdom 0-0 0-1 0.
IMMACULATA — Liz Todd 4-12 5-6 17, Brittany Simek 4-16 6-10 14, Lainey Bell 3-12 2-2 9, Mary Kate Metivier 1-1 0-2 2, Grace Parker 0-4 2-2 2, Ellie Wolk 0-3 1-2 1, Danielle Sachse 0-1 0-0 0.