THS

wrestlers finish third at regionals
Eight Chieftains earn state bids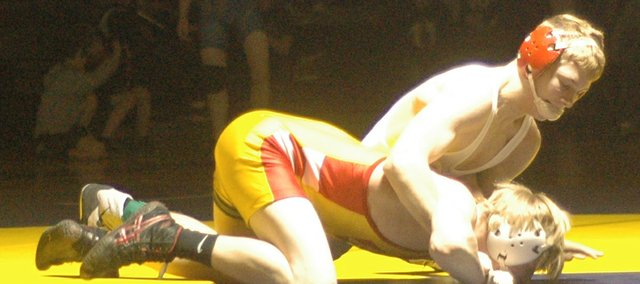 Photo Gallery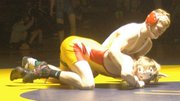 Tonganoxie wrestling at regional tournament
The THS wrestling team placed third Saturday at the regional tournament in Spring Hill. Eight Chieftains qualified for the Class 4A state meet, which begins Friday in Salina.
Spring Hill — From a team standpoint, the 2011-12 wrestling season came to an end Saturday night. However, a select group of THS grapplers aren't quite finished on the mat this year.
Eight Chieftains guaranteed their season will last another week, as they finished in the top-four of their respective weight classes Saturday at the Class 4A regional meet in Spring Hill.
"There's always a time where it's going to end," coach Jeremy Goebel said. "That's one of the hardest parts about this weekend, but we're sending eight kids to the state tournament."
Sophomore Clayton Himpel (120), senior Caleb Himpel (126), sophomore Joe Wolf (132), freshman Asher Huseman (138) and senior Matt Soetaert (152) guaranteed themselves a spot at the Class 4A state meet when they wrestled their way to the regional finals on Friday.
Other THS state qualifiers include freshman Dalton Tavis (113), junior Julius Coats (182) and junior Thomas Miller (195), who each advanced to their respective third-place matches Saturday. Tavis and Miller each won one more time and took home bronze medals.
"We had a great round (Friday)," Goebel said. "Overall, we ended the day 20-7, which is pretty darn good. (Saturday), we had five kids in what you call a bubble match. If you win, you get in. We won three of the five. As a coach, you're always finding opportunities for your kids to add a few more points."
The eight state qualifiers break the previous school record of six set in 2002 and tied in 2008.
The No. 10 Chieftains struggled in the championship round, going a combined 1-4. Huseman claimed the team's only gold medal when he defeated Atchison's Tyler Harris, 8-3.
THS came up short in its quest for a team championship, finishing third in the final standings. Entering the consolation round, the Chieftains were just 1.5 points out of first place, but No. 6 St. James Academy made a late charge to clinch the team title. Complete team results can be found below.
The state meet will take place Feb. 24-25 at the Salina Bicentennial Center.
"As a high school athlete, you're able to go showcase your talent and represent your high school," Goebel said. "It's going to be a great weekend for our kids to do what they've done all year."
State pairings will be released next week.
Overall team results
St. James Academy — 194
Bonner Springs — 180.5
Tonganoxie — 170
Baldwin — 134.5
De Soto — 128
Spring Hill — 115
Piper — 63
Jeff West — 58.5
Atchison — 51
Sumner Academy — 40
Basehor-Linwood — 39
Hiawatha — 33
Perry-Lecompton — 21
Eudora — 12
Bishop Ward — 7
THS individual results
Name, tourney record (tourney finish)
113 — Dalton Tavis, 3-1 (Third)*
120 — Clayton Himpel, 2-1 (Second)*
126 — Caleb Himpel, 3-1 (Second)*
132 — Joe Wolf, 2-1 (Second)*
138 — Asher Huseman, 4-0 (First)*
145 — Adam Thomas, 1-2 (N/A)
152 — Matt Soetaert, 3-1 (Second)*
160 — Luke Carey, 2-2 (N/A)
170 — Ryan Lynch, 2-2 (N/A)
182 — Julius Coats, 2-2 (Fourth)*
195 — Thomas Miller, 3-1 (Third)*
220 — Zeke Kissinger, 2-2 (N/A)
285 — Ty Barton, 1-2 (N/A)
*Denotes state qualifier