State wrestling begins Friday in Salina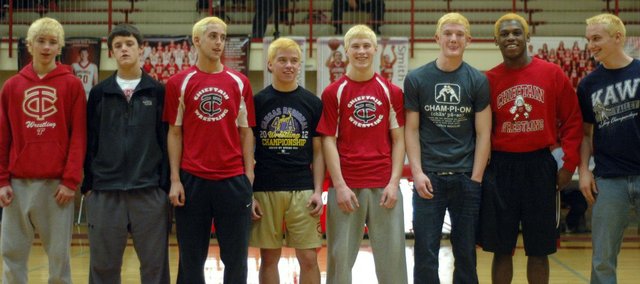 Tonganoxie High will have eight wrestlers in action this week at the Class 4A state wrestling championships in Salina. The Chieftain state qualifiers include freshman Dalton Tavis (113), sophomore Clayton Himpel (120), senior Caleb Himpel (126), sophomore Joe Wolf (132), freshman Asher Huseman (138), senior Matt Soetaert (152), junior Julius Coats (182) and junior Thomas Miller (195).
Competition will begin at 10 a.m. Friday at the Salina Bicentennial Center. Saturday's action will begin at 9 a.m. Here are some notes regarding the Chieftains' achievements in 2011-12:
Of the eight Chieftains to qualify for state, five will face a lower seeded opponent in the first round. Soetaert enters as a No. 2 seed and will face No. 15 Kyle Ryan (Smoky Valley). Clayton Himpel is a No. 4 seed and will start off against No. 13 Ty Kolterman (Clay Center). Huseman comes in at No. 7 and will take on No. 10 Davey Parker (Cheney). Wolf and Caleb Himpel are each seeded at No. 8. Wolf will wrestle against No. 9 Seth Gunter (Mulvane), while Caleb Himpel will face No. 9 Seth Strauss (Abilene).
The remaining three wrestlers will be considered underdogs in their first matches. Tavis is a No. 13 seed and will take on fourth-seeded Jeremiah Jones (Pittsburg). Coats is No. 14 and will see No. 3 Jake Bradley (Prairie View). Miller enters at No. 15 and will face No. 2 Skyler Hittle (Concordia).
Clayton Himpel and Caleb Himpel are THS' only returning state qualifiers. Clayton placed at last year's state meet, taking fourth in the 112-pound class. Caleb participated, but did not place in 2011.
After regionals, Clayton Himpel sports a 39-5 season record. He is two wins shy of the school-record 41 wins set by Ross Starcher in 2003-04. Starcher can also claim the highest state finish in school history. He took second in the 171-pound class in 2005.
Four Chieftains have eclipsed the 30-win mark this season. That list includes Clayton Himpel (39), Huseman (36), Soetaert (33) and Tavis (31). Together, that group is a combined 139-36 this season. As a team, THS went 469-270 in 2011-12.
THS statistical leaders
Wins: Clayton Himpel — 39
Takedowns: Julius Coats — 101
Reversals: Matt Soetaert — 22
Escapes: Caleb Himpel — 37
Pins: Matt Soetaert — 24
Technical falls: Clayton Himpel — 7
Team points: Clayton Himpel — 223