THS

girls win low-scoring battle with Pirates on senior night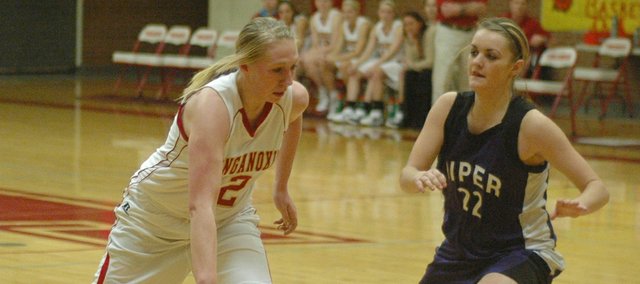 Photo Gallery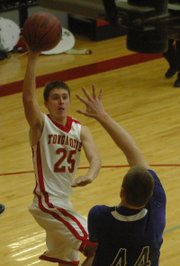 Tonganoxie basketball vs. Piper
The THS basketball teams welcomed Piper to town Tuesday for senior night. The girls held on for a 37-29 win, while the boys cruised to a 65-49 victory.
When Tonganoxie and Piper squared off on the hardwood earlier this month, offense was a premium on both ends of the floor. History repeated itself in Tuesday's rematch, and once again, the Chieftains did just enough to get the victory.
Junior Hannah Kemp scored a team-high 10 points and THS shook off a poor first-half performance to claim a 37-29 decision on senior night. It was the final regular season home contest for a trio of players, including Amanda Holroyd, Tavia Brown and Haley Smith.
"The emotion, it wasn't really on my mind until Coach (Randy Kraft) called for captains (before the game)," Brown said.
Brown and Holroyd each had six points, while Smith added two.
Both teams struggled on offense from the opening tip, as they combined for just 27 first-half points. The Chieftains (13-6) trailed by one at the break, but rattled off a 10-2 run to start the third quarter. That gave them a seven-point advantage, which they maintained until the fourth.
"We obviously had a rough first half, but we came into the locker room and got on the same page," Smith said. "We had a strong start to the second half, and that shows the dedication your underclassmen have for you (as seniors)."
Despite trailing by as many as 11 in the final period, the Pirates refused to go away. They scored seven straight to get within four, but Kemp converted a three-point play to kill the drive with 4:06 remaining. Piper failed to mount another serious threat.
After the game, all three seniors expressed gratitude for the support they received from their teammates throughout the season.
The game had all the makings of an upset early on, as THS struggled to get clean looks from the floor. The Chieftains failed to crack the Piper defense before halftime and went into the locker room down 14-13.
"They're a slower team," Holroyd said of the Pirates. "They don't move around on defense a lot, so we start to stand around on offense and we don't get any ball movement."
The Chieftains matched the point total they accumulated in their first meeting with the Pirates — a 37-33 victory on Feb. 3.
Tuesday's win may have been the school's official senior night, but it won't be the last time the three Chieftain seniors play in their own gym. The team's season record was good enough for a No. 2 seed in the Bonner Springs sub-state bracket. It will play host to seventh-seeded Jeff West Tuesday for quarterfinal action.
"That just gives us the momentum," Smith said. "To know that we're at the top of the bracket, that advantage helps out a lot."
Tipoff is set for 6 p.m.
Score by quarter
Piper 8 6 4 11 — 29
Tonganoxie 9 4 14 10 — 37
Individual scoring
PIPER — Whitney Morrow 5-9 2-6 12, Sydney Mansaw 2-4 1-4 5, Carley Zwart 2-8 0-1 4, Tyler Johnson 2-11 0-0 4, Connor Shriver 1-2 0-0 2, Megan Woolley 1-6 0-0 2, Haley White 0-1 0-0 0.
TONGANOXIE — Hannah Kemp 2-5 5-6 10, Jenny Whitledge 4-6 1-5 9, Amanda Holroyd 2-3 0-0 6, Tavia Brown 3-4 0-1 6, Emma Stilgenbauer 2-5 0-0 4, Haley Smith 1-4 0-0 2, Emily Soetaert 0-4 0-0 0, Madee Walker 0-5 0-0 0.