Tonganxie lifters near end of season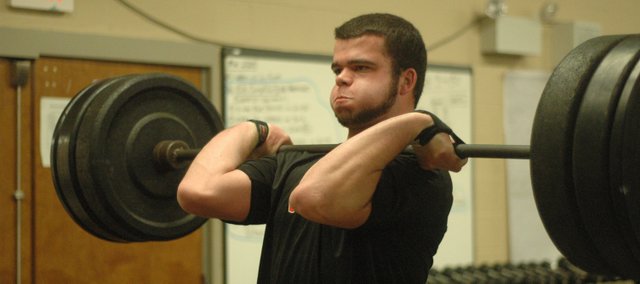 For those not interested in basketball or wrestling, winter can be a dull time when it comes to sports. However, in the halls of Tonganoxie High, the options don't stop at the mat or the hardwood.
A select group of Chieftain athletes have been hard at work in 2012, but rather than the gym or the wrestling room, they've been in the weight room. The THS powerlifters opened their season Jan. 7 at the Basehor-Linwood Bobcat Invitational, and they've never looked back.
Now, as the winter sports season draws to a close, the Chieftains have their sights set on a strong showing at the Horton Invitational on Saturday.
"We've got a motto we always talk about, and that's 'go beat somebody,'" coach Matt Bond said. "They've been to a couple meets now and they know the kids they're going to be competing against for the most part. I want to make it a goal for them to move up the list.
"The meets themselves are a great platform to show off all the time and energy they put in in the weight room."
Though not sanctioned by the Kansas State High School Activities Association, powerlifting has found its way into several Kansas high schools in recent years. THS didn't host a meet this season, but travelled to Basehor-Linwood, Royal Valley, Wamego and Horton this season for competitions. The team wrapped up its regular season last Saturday at the Horton Invitational.
The Chieftains adopted their current powerlifting program in 2008 when the current seniors were freshmen. Makayla Sample and Tyler Stockman are two of four seniors on the 2012 roster and the only two who have been in the program since it was started four years ago.
"Tyler and Makayla, they've been involved since they were freshmen," Bond said. "They've kind of taken a lot of self-leadership. It's kind of an identity for them, and they've had great success."
Other seniors include Derek Lingo and Parker Osborne, who have each been in the program for one year.
Stockman has broken several personal records this season and Sample is undefeated entering Saturday's regular season finale. She is one of three Chieftains with at least three overall championships. Others include sophomores Jessica Rubio and Cole Holloway, who each earned gold medals at the first three meets.
The season will come to a close at the Class 4A state meet March 3 in Abilene. As THS continues to gear up for the home stretch, Bond is optimistic several lifters will end the season on a high note and bring home some hardware in the process.
"A lot of them have great shots to place," he said. "If you get in the top six, you place at state. It's not a sanctioned sport by the state, but it's still all-state honors. We've got several that are kind of pushing for that."