Huseman takes sixth, but
THS

struggles at state wrestling tourney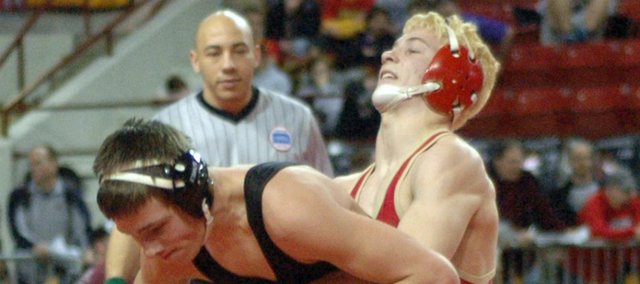 Photo Gallery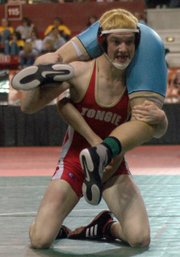 Tonganoxie wrestling at state tournament
The THS wrestling team recently competed in the Class 4A state tournaments. Eight Chieftains were in action, including sixth-place finisher Asher Huseman.
Salina — The 2011-12 wrestling season marked one milestone after another for Tonganoxie High. Unfortunately, the Chieftains couldn't carry that magic over into the Class 4A state tournament.
Three of the school record eight state qualifiers reached the second day of competition, but only one left the Salina Bicentennial Center on Saturday with a medal.
"When you make it to the state tournament, you know any match you have is going to be a tough one," coach Jeremy Goebel said. "What it boils down to is just getting out there and giving yourself an opportunity to get your hand raised at the end. I just felt like, in our matches, we didn't create enough opportunities."
Entering Saturday's competition, freshman Asher Huseman (138), senior Matt Soetaert (152) and junior Thomas Miller (195) each had a shot at bringing home some hardware. All three had the chance to finish as high as third, but couldn't cash in on the opportunity.
Soetaert saw his hopes of medaling disappear when he lost to Clay Center's Rusty Yarrow in Saturday's opening round. Miller defeated Michael Salas of Ulysses to get within one win of a medal round, but his run ended with a loss to Columbus' Gavin Houser.
Huseman, who reached the semifinals on Friday, dropped his final two matches and finished sixth. He was the Chieftains' only state placer.
THS got off to a rough start Friday, as five wrestlers were eliminated after just two matches each. Freshman Dalton Tavis (113), sophomore Clayton Himpel (120), senior Caleb Himpel (126), sophomore Joe Wolf (132) and junior Julius Coats (182) saw their season come to an end after falling in the opening and consolation rounds.
THS went a combined 1-7 in the first round, with Huseman getting the team's only win.
"Coming into the tournament with our preparation, we were a little hungry, but we rolled in here on Friday and started it off a little flat," Goebel said.
Despite their rocky finish, the Chieftains accomplished several of their team goals this season. The teams 2011-12 accolades included a 4-0 dual record — highlighted by a 78-0 shutout of Ottawa — and the school's first Kaw Valley League championship since 1990-91.
This year's squad was led by six seniors, including Soetaert, Caleb Himpel, Adam Thomas, Ryan Lynch, Anthony Baker and Jake Spencer.
"Those seniors, they left it out there," Goebel said. "It's tough because those kids mean a heck of a lot to their teammates and the coaches. What they've done, there's no regrets there."
However, with several key contributors returning in 2012-13, Goebel believes THS could see even more success in the near future.
"We have a really young team," he said. "It's good to know that because, coming back next year, it should leave a little hunger inside. It should have us excited to do some wrestling from here until next season."
THS individual results
Name, state record (overall record)
113 — Dalton Tavis, 0-2 (31-14)
120 — Clayton Himpel, 0-2 (39-7)
126 — Caleb Himpel, 0-2 (25-16)
132 — Joe Wolf, 0-2 (25-9)
138 — Asher Huseman, 2-3 (38-10)*
152 — Matt Soetaert, 1-2 (34-14)
182 — Julius Coats, 0-2 (25-17)
195 — Thomas Miller, 2-2 (21-18)
*Finished sixth in weight class